Boston home prices edged up for the 3rd month in a row according to figures just released by Standard and Poors.  The seasonally adjusted S&P/Case-Shiller Home Price Index for Greater Boston rose 0.7% in May, putting the Index a healthy 1.5% above where it was last February.
Home prices rise as sale volume surges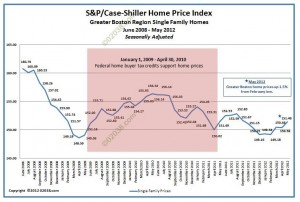 The 3 month rise in Greater Boston home prices reflects vigorous conditions in the overall Massachusetts real estate market. The first half of 2012 saw strong gains in home sale volume, with home sales soaring 20% over year-ago levels.  With homes selling quickly, it seems natural that we would see home prices rise in the face of such active demand.
Non-seasonally adjusted Boston Index rises also
Stripped of adjustment for seasonal influences, metro-Boston home prices rose sharply in May.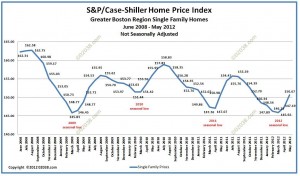 The 2.4 % increase in non-seasonally adjusted prices could be termed perfectly routine and perhaps even expected given that home prices on the unadjusted Boston Index typically do rise each spring, only to fall back every winter.
The rhythmic seasonal rises and falls of Boston home prices greatly reduce the reliability of the unadjusted version of the Case-Shiller Index as a home price tracking tool.
What will Fall 2012 bring?
Whether the Case-Shiller Index for Greater Boston will keep rising in 2012 depends on the pace of home sales for the rest of the year.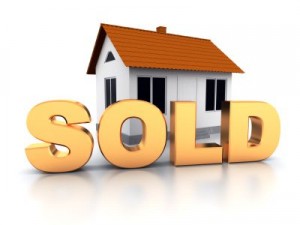 After the prime spring selling season, Massachusetts homes typically have their second-best home marketing season each fall.  How well homes sell in the second half of August through the end of October this year would seem to hold the key to the direction of home prices for the balance of 2012.
If Massachusetts home sales in the second half of 2012 keep up the strong pace they set in the first 6 months of the year, we should see home prices continue to creep higher.  In turn, this might set the stage for better things to come in 2013.
Copyright ©2012 02038.com