Greater Boston home prices rose again in July, continuing an upward trend which began earlier this year. According to heartening new figures just released by Standard and Poors, seasonally adjusted metro Boston home prices rose another 0.8% in July, marking the 5th straight monthly rise in the seasonally adjusted S&P/Case-Shiller Home Price Index for Boston.
Greater Boston home prices up 2.8% since February
As tracked by the seasonally adjusted Boston Index, home prices in metro Boston are 2.8% above where they were last February.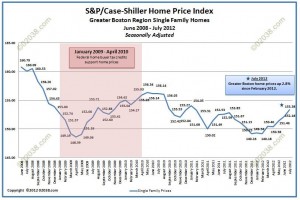 The rise in Massachusetts home prices reflects ongoing robust demand for homes in the Bay State.  Year-to-date home sales volume is up a brawny 22% so far in 2012 over 2011 levels.  Home sales in August were an eye-popping 55% ahead of what they were back in August 2010.
Unadjusted Index up 7.7% since February
The news is even better when you look at Greater Boston sale price figures that have not been adjusted for seasonal variation.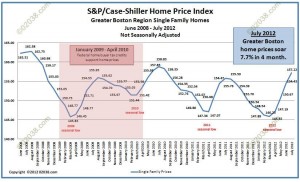 Without removing seasonal influences, the S&P/Case-Shiller Home Price Index for Boston rose 1.8% in July and now stands 7.7% above its recent low set back in March.
Take these non-seasonally adjusted gains with a grain of salt.  Massachusetts home prices fluctuate with the seasons, exaggerating  price swings in the unadjusted Boston Index.
Very positive news either way
Whether you look at the seasonally adjusted Boston Index or its unadjusted version, the upward direction of home prices in 2012 is very encouraging.
Higher home values should help spur more prospective home sellers to take the plunge and list their homes for sale.  In turn, more homes for sale will increase choices for home buyers, making for a healthier, more balanced real estate market in Massachusetts than we have seen over the past several years.
Follow the hotlinks to search for homes for sale in Franklin, MA organized by school district and by house style.
Copyright ©2012 02038.com