The Massachusetts real estate market continued its winning ways in August, racking up another month of substantial gains in home sales volume. According to data maintained by MLSPIN, the predominate MLS in the Commonwealth, single family home sales were up 22% in August over year ago levels.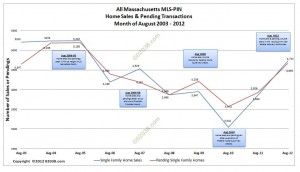 10 months of robust home sale gains
Home sales in MA have increased every month so for in 2012. To date this year, homes sales in Massachusetts are 22% ahead of last year's pace . . .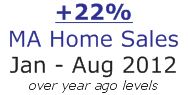 . . . and a whopping 55% ahead where home sales were in the first 8 months of 2010.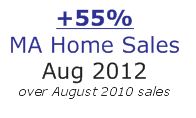 Activity started actually picking up noticeably last November. Home sales really took off as 2012 got under way, reflecting improving consumer confidence and the growing Massachusetts economy.
Home prices in MA have been rising modestly in 2012. If sales volume continues strong, MA home prices may rise more quickly in 2013.
Sales gain in Franklin, MA
The factors that spurred the surge in home sales across the Bay State in 2012 have powered the local Franklin market as well.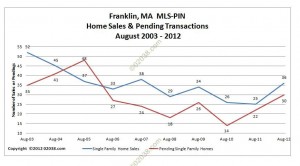 Home sales in Franklin were up sharply in August over August 2011 and total sales in Franklin year to date are well ahead of what they were in 2011.
National real estate market improving also
Here are links to articles with good insights into the ongoing recovery in real estate on the national level; follow the hotlinks in the headline images to access the articles:

Copyright ©2012 02038.com