2012 witnessed a strong 22% surge in home sales activity across Massachusetts.  The Commonwealth enjoyed 12 consecutive monthly gains in home sales activity, demonstrating a durable real estate market recovery. The median sales price of single family homes in Massachusetts rose fractionally in 2012, with other measures of Bay State property values showing modest but encouraging gains. In sum, the tone of the real estate market improved dramatically in 2012, setting the stage for further advances in 2013.
Sales volume soars
Massachusetts single family home sales rose 22% in 2012 as tracked by MLS-PIN, the dominant MLS in Mass.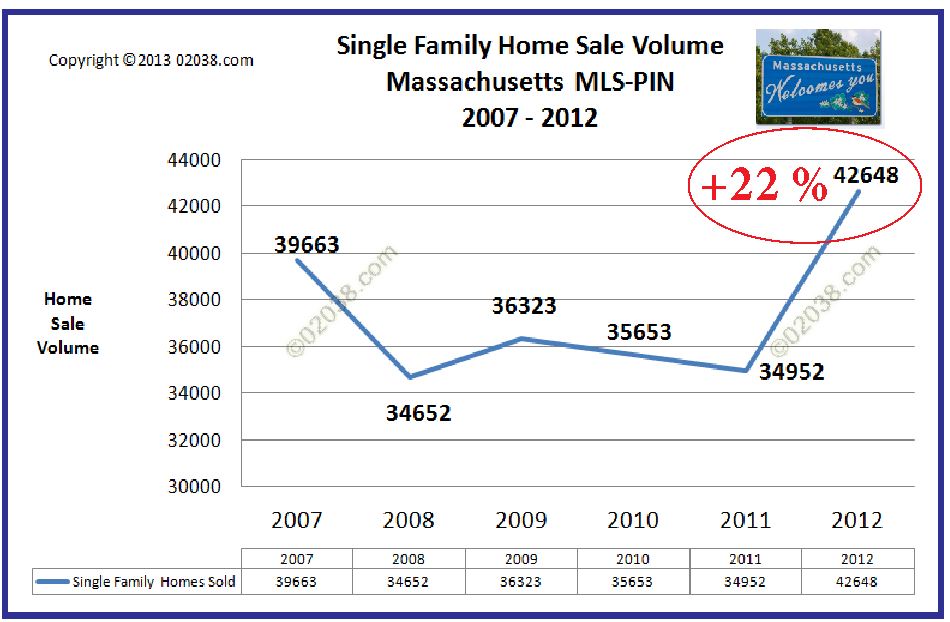 This was the largest year-over-year percentage increase in home sales volume in the Bay State for decades.  This gain marked the best year for home sales in MA since the 2007 – 2009 world financial crises began.  A total of 42,648 single family home sold in 2012 on MLS-PIN.
Home prices up marginally
The median price of MA single-family homes sold in 2012 on MLS-PIN rose fractionally to $295,000, up from $293,500 a year earlier.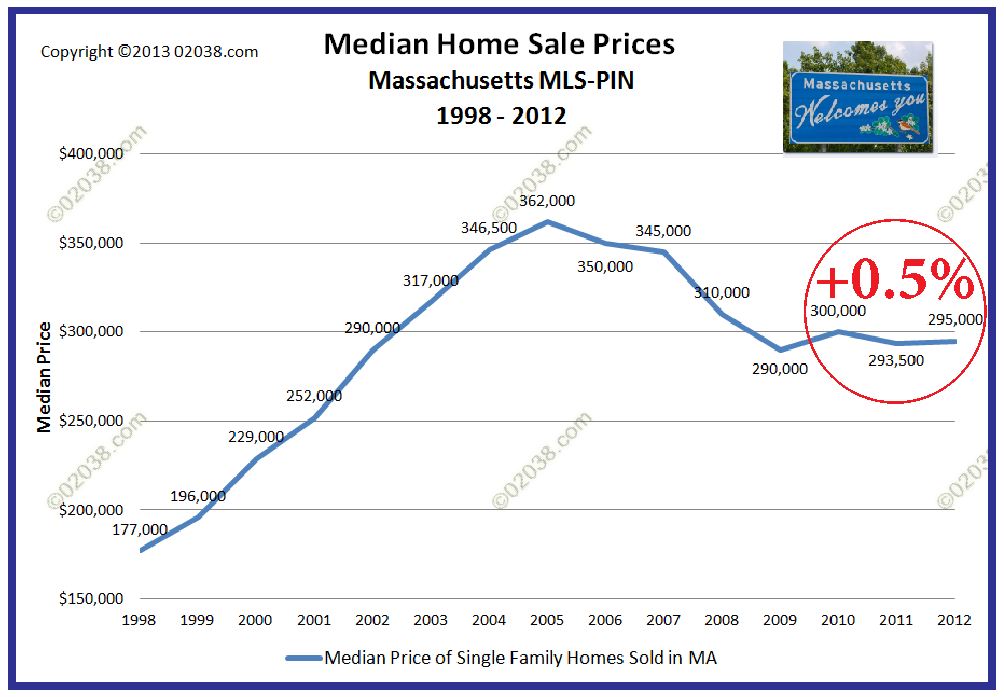 The median price for all single family homes in the state for 2012 is 1.7% above the recent low of $290,000 in 2009.
In another measure of MA home values near the end of 2012, Greater Boston home prices as gauged by the seasonally adjusted Case-Shiller Index were up 3.4% over their 2009 lows.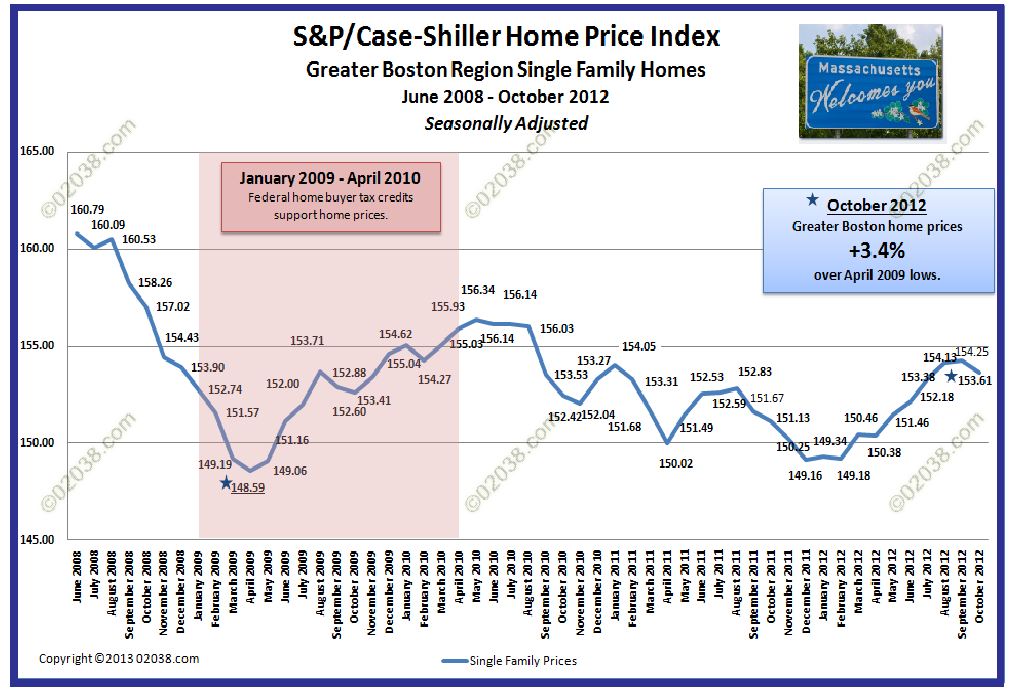 At the publication of this post, the Case-Shiller Index was current to October 2012.
Franklin, MA market active in 2012
Single family home sales activity in the local Franklin, MA market increased during 2012.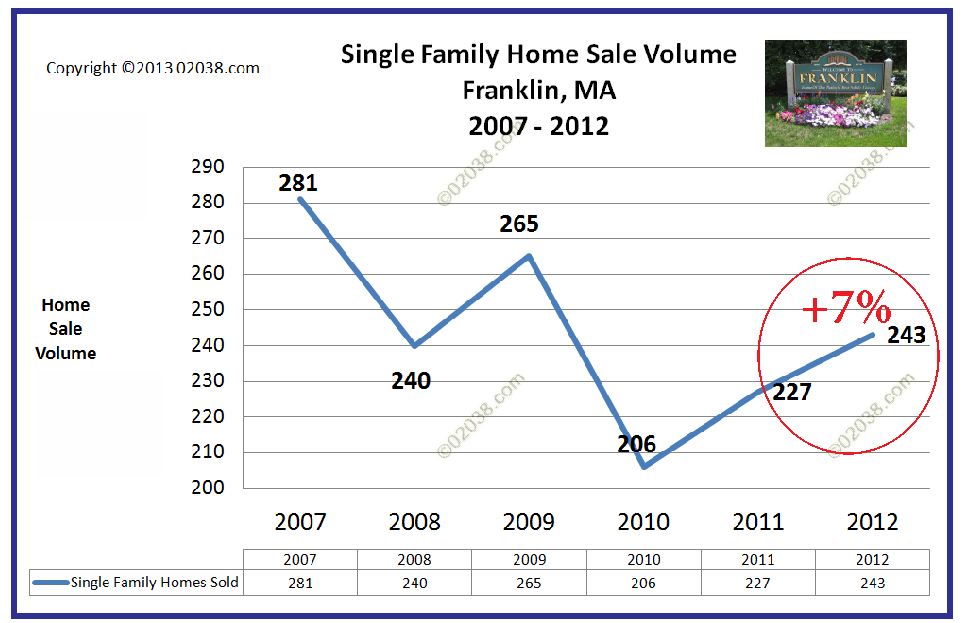 243 homes sold in Franklin on MLS-PIN, compared to 227 homes in 2011.  It was the best year for home sales in Franklin since 2009.
Franklin home prices higher
2012 saw the median sale price for of all single family homes in Franklin rise 4.1% to $380,00 (from $365,000 in 2011).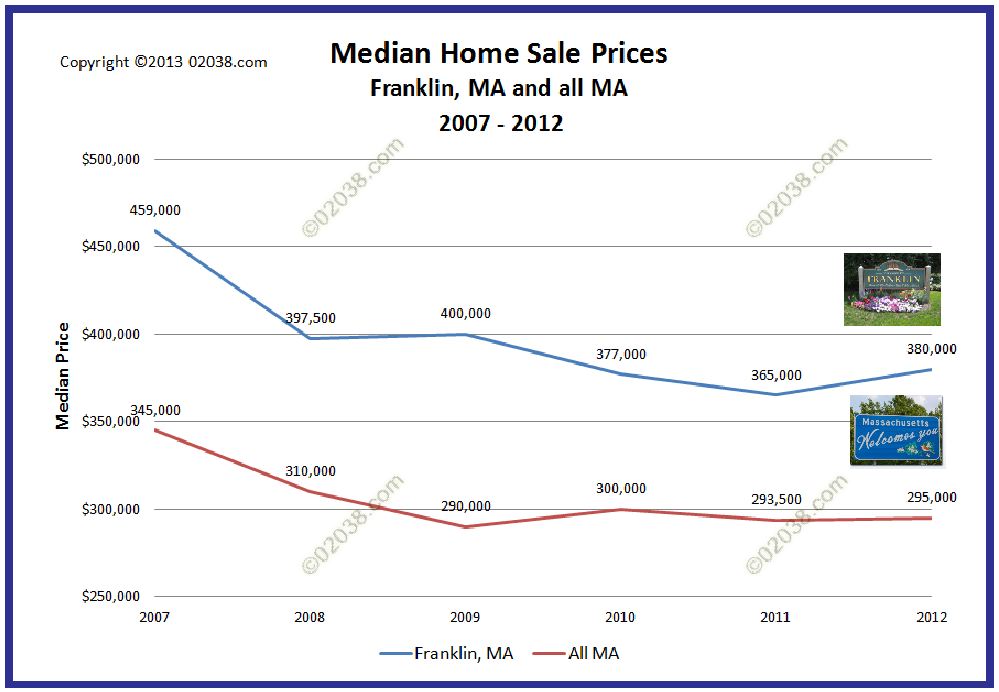 This was the first annual price gain for houses in Franklin since 2009.
Not all house styles in Franklin shared equally in the 2012 median sale price gain. Please consult the reports separately available on 02038.com for in-depth coverage of how the median sale prices of the various styles of houses in Franklin performed in 2012.  You can access reports for colonials, capes, ranches, antiques, and split level homes.
Franklin house sales by price bracket
During 2012, the greatest number of single family homes sales in Franklin occupied the $250,000 – $599,999 price range.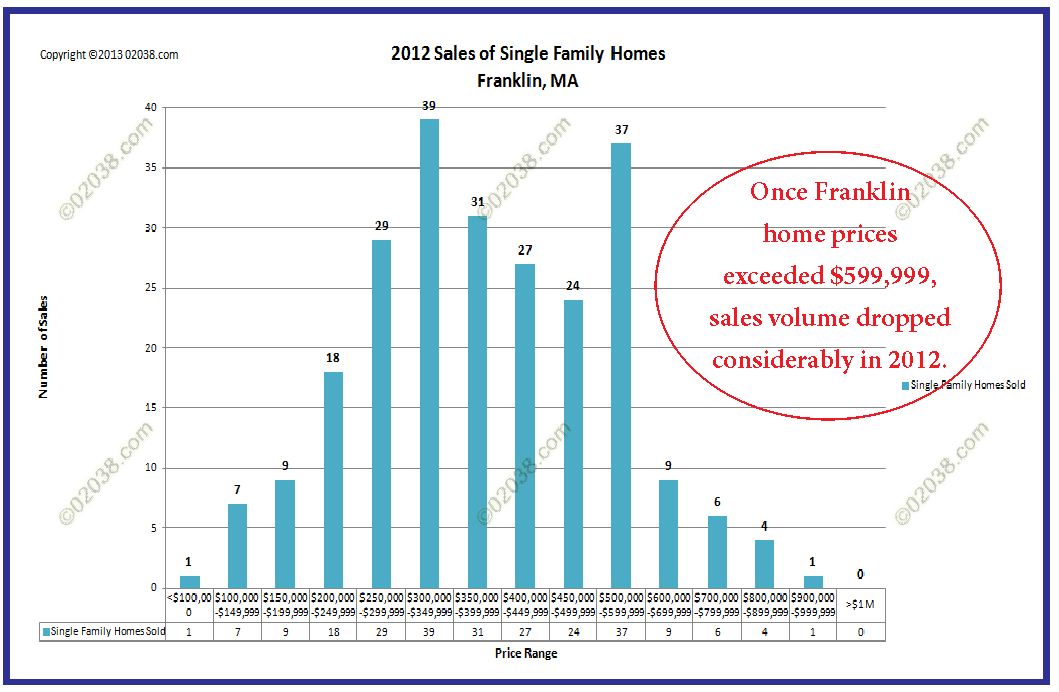 There were a considerable number of other sales in the $350,000 to $399,999 price bracket with the next-largest concentration of sales taking place in the $500,000 – $599,999 bracket.  If you are a prospective home seller thinking of selling your Franklin home, seek the advice of a local real estate broker who knows the Franklin market very well.  I would be happy to assist you with this; please contact me at 508-613-2889 or email me for a no-cost, no-obligation home value analysis.  I'll make sure your home is priced appropriately so that it sells for the most it can command on the market!
If you are thinking of moving in 2013
With 2012 having seen such an overwhelming surge in home sales activity across MA, is 2013 a smart year to make a move?  If you are thinking of buying or selling a home this year, take into consideration the following:
Mortgage rates are currently so low as to be the fundamental driver of your decision making.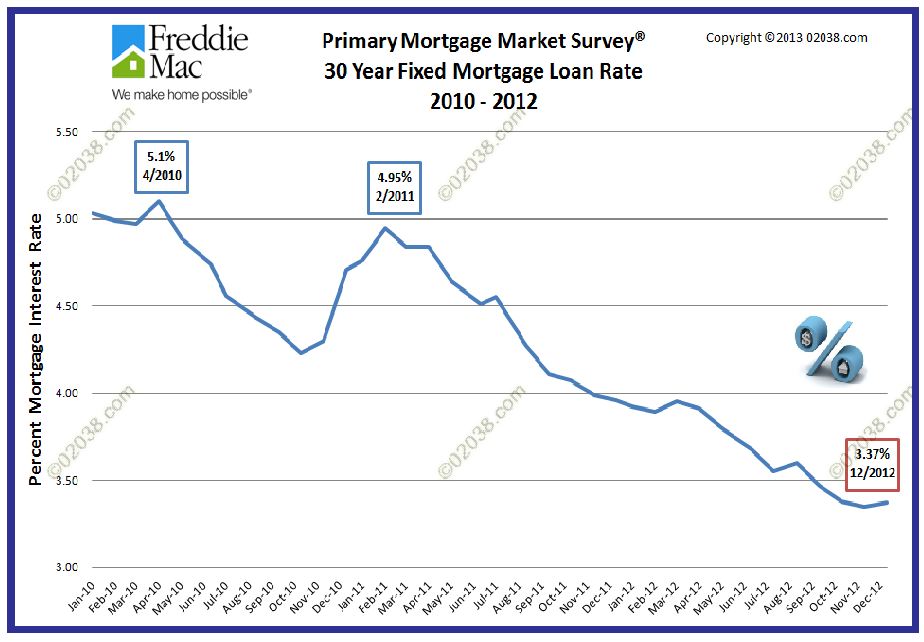 Today's historically low cost of borrowing presents a once in a lifetime opportunity to dramatically improve your housing situation in ways that may not be affordable once rates rise – and rates will rise at some point in the future, perhaps without warning!
Here's to a happy, healthy and prosperous 2013!
Copyright ©2013 02038.com