The supply of single family homes for sale in Massachusetts hit 8 year lows in February, according to data maintained by MLSPIN, the largest MLS serving the Bay State.  The dearth of available homes today rivals the tight supplies last seen in the Commonwealth near the peak of the market boom back in February 2005.  The current low inventory of homes for sale comes amid an increase in buyers entering the market as we head towards March and the start of the hyper-active spring home selling season. The imbalance between supply (low) and demand (high) may begin to put upwards pressure on area home prices this spring.  Add to this volatile mix the high octane fuel of today's historically low mortgage interest rates and we may witness in 2013 a sudden ignition of MA home values.
21.6% fewer homes for sale
At mid-month this February, there are roughly 15,600 active single family home listings on MLSPIN, a 21.6% decline from the approximately 19,900 listings active on MLSPIN this time one year ago.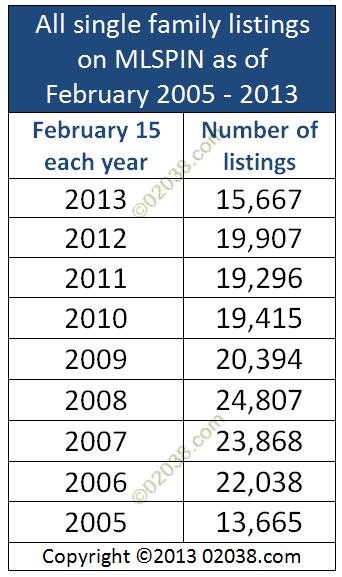 The number of single family homes in Massachusetts currently available on MLSPIN is an astounding 36.8% less than the roughly 24,800 homes for back in February 2008. As confirmed in an article posted by the Boston Herald, the current low inventory of single family homes for sale is especially acute in Boston and extends to most communities in the Rte 128 and I-495 region of the Bay State:
"The trend of low home inventories continues into 2013, as prospective buyers had 23 percent fewer homes to choose from this week statewide, compared to a year ago, according to data from the MLS Property Information Network.
In Boston alone, the number of units currently for sale is down a staggering 45 percent compared to last year."
Absorption rate analysis  
Absorption rate analysis is a tool commonly used by real estate brokers and investors looking to get insight into the future direction of home values in a given real estate market.
A variety of absorption rate formulas exist. All methods estimate the current state of the market by determining how long it would take to sell (or "absorb") all properties currently for sale in a select geographic area.
Most calculations produce a "months' worth" of housing inventory and this figure is often compared to supply levels in earlier time periods.  The comparison gives you a good reading of whether the local market is likely headed up or down in coming months.
Here's how an absorption rate analysis depicts the current amount of housing supply in Massachusetts, the I-495 region around the Town of Franklin, MA and in Franklin itself: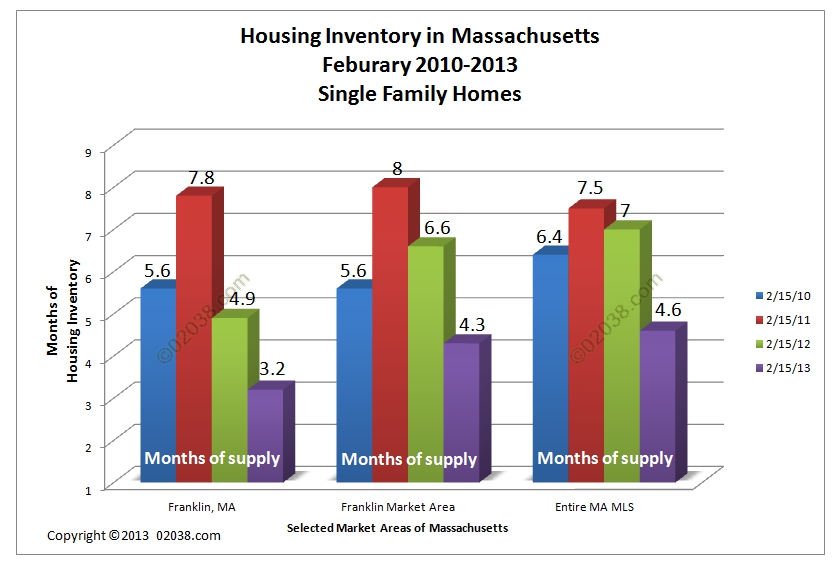 As you can see above, the supply of homes for sale in all three market areas is very low. There is only a 4.6 month supply of single family homes for sale across the Commonwealth this February.  This is down sharply from the 7 month supply of homes available last year at this time.
Conditions in the Town of Franklin, MA and nearby communities are even tighter.  There currently is only a 4.3 month supply of homes in the Franklin regional market and an exceedingly low 3.2 months of inventory in the Town of Franklin itself.
This shortage of available housing as the spring 2013 home selling season approaches is making for some frustrated home buyers.  Reports of bidding wars are common.  There's so little for sale that most properly-priced homes in Franklin sell very quickly!
In past real estate market cycles, such tight conditions typically led to upwards pressure on home values.  Home prices are rising in other areas of the country, but there have been no dramatic price moves yet in Massachusetts.
It will be very interesting to see how the market evolves in 2013.  I will keep a close eye on prices for you!
Copyright ©2013 02038.com