The market for Spruce Pond Village townhomes in Franklin, MA had a lackluster year in 2012. But due to a strong surge in home sales volume throughout the Bay State last year, the outlook is upbeat for this desirable condo community in Franklin, MA.
Sales volume flat, average sales price down
While home sales volume in the overall MA market rocketed 22% in 2012, only three townhomes sold at Spruce Pond Village last year. This matches 2011's sales production at this condo community.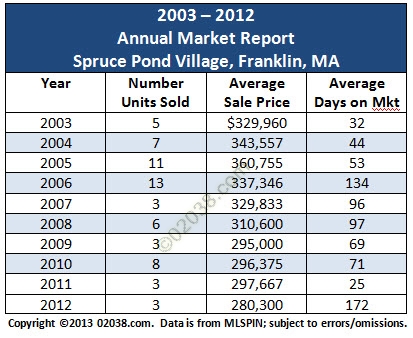 The average sales price of homes at Spruce Pond in 2012 fell 5.8% to $280,300 (from $297,667 in 2011).  Days on market ballooned to 172 days (from only 25 the year before).
Location of 2012 sales at Spruce Pond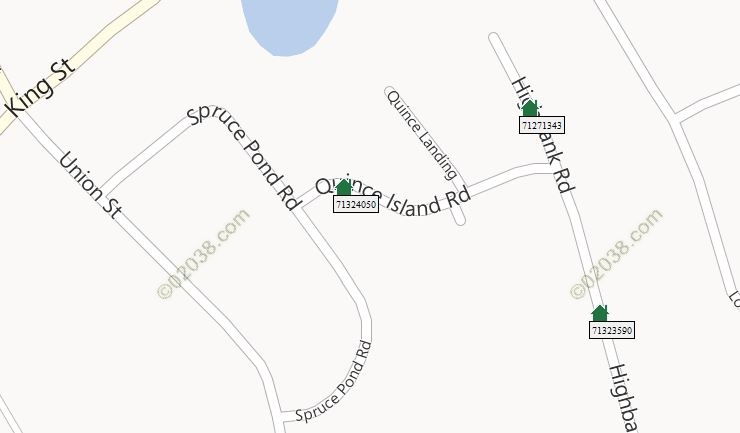 The map above shows the location 2012's sales in this condo community.
Full report on the 2012 sales at Spruce Pond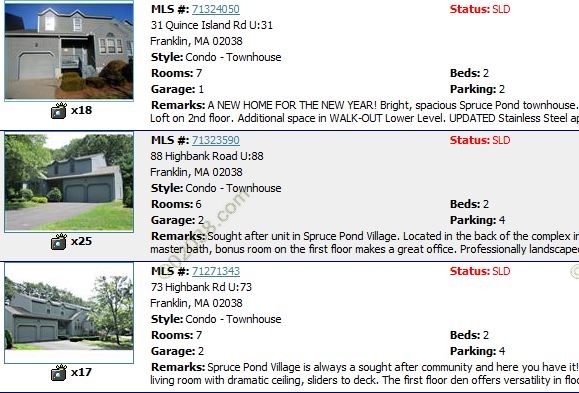 Follow the image above or the hotlink to download a full report on 2012's sales at Spruce Pond Village.
Where is the market for Spruce Pond condos headed in 2013?
Spruce Pond Village has many strengths:  a superior location just off Exit 16 of I-495, units have attached garages and basements, and the financial condition of the community is excellent. Spruce Pond will continue to offer a valuable alternative to more expensive age-restricted (active adult) condo developments in the I-495 region.
Regardless of the humdrum market at Spruce Pond during the year just past, 2012 was a strong year for home sales volume across Massachusetts.  Single family home sales volume in the Bay State rose a robust 22% in 2012.
And so far in 2013, the real estate market in MA has maintained  momentum.  If the strengthening trend in Massachusetts real estate continues throughout the year, the outlook for sales at Spruce Pond Village should be very positive!
If you have any questions about how your Spruce Pond townhome stacks up in the local market in terms of price, features and amenities, I would be happy to assist you. I'll prepare an in-depth Home Market Analysis for your Spruce Pond home.  Just give me a call at 508-613-2889 or email me.  No cost or obligation!
Copyright ©2013 02038.com