The median sales price of single family homes in Franklin, MA rose sharply to $410,000 in the first quarter just ended.  That's an impressive 16.8% increase over 2012's first quarter median price of $351,000 and an eye popping 26.4% ahead of where Franklin's median price was this time two years ago.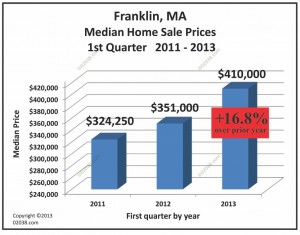 Low supply fuels price rise
The supply of homes for sale in Franklin has been extremely curtailed throughout 2013; Here's how the supply of homes for sale in Franklin, MA looked during February 2013 compared to prior years: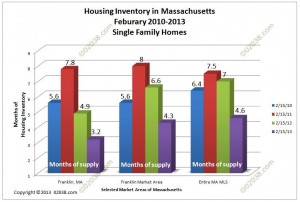 The chart also shows just how depleted home inventories were in the greater Franklin market as well across the Bay State last February.
The dearth of available homes in Franklin continued into March and was further reinforced by a notable strengthening of demand for local homes as the spring selling market kicked into gear.  Newly-confident home buyers flooded the greater Franklin market, spurred by the growing regional economy, phenomenally low mortgage interest rates and the realization that the bottom of the market is well behind us.
From a seller's point of view, it has become a virtuous cycle of low home inventory fueling price increases which engender more buying which in turn drives the supply of available homes even lower.
Past rebound phony

A look at the first quarter median sales prices statewide since 2009 shows that we went through a prior updraft in home prices back in 2010: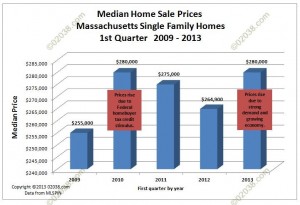 Home prices rose in 2010 due to the artificial stimulus supplied to the real estate market by the Federal home buyer tax credits.  Once those programs ended in April 2010, MA home prices wilted.
The seasonally adjusted Case Shiller Home Price Index for Boston clearly shows how Greater Boston home prices began their retreat in 2010 almost as soon as the Federal tax credit programs ended: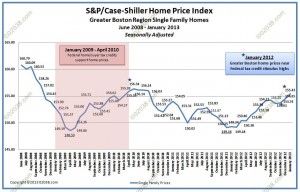 Price rise real this time
This time the price rebound seems firmly based on the real footings of a strengthening MA economy and renewed consumer confidence.  There is no Federal program inflating home values this time.  Yes, interest rates are being kept low by the Federal Reserve.  But rates have been low for years.  It was not until the MA economy strongly improved in 2012 that the MA real estate market began to revive.
Looking forward, the higher home prices go, the more homeowners will have positive equity.  This should bring more homes onto the market, easing the frustration felt by prospective home buyers today.
It is so encouraging to see the improving real estate market,  coming as it does after so many years of difficult times.  2013 looks to be a superb time to sell a home!  If you are thinking of selling your home, please contact me today for a free, no obligation Home Value Analysis!
Copyright ©2013 02038.com