Franklin, Massachusetts is a hot town this May . . . and we're not talking about the weather! The real estate market in this prime I495 community is sizzling. Franklin home prices are rising and it's getting to the point that many properties for sale in town go under agreement almost as soon as showings begin.
Shortage of homes for sale
Demand has outpaced supply in Franklin, Mass since the year began. This trend has continued to such a degree in Franklin that housing inventory levels are stuck at extreme lows even at the peak of the spring home selling season.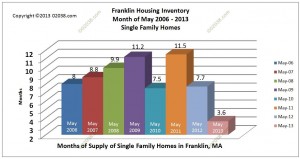 There currently is only about a 3 month supply of homes for sale in Franklin, Massachusetts. That compares to over 7 months of supply this time last year and over 11 months' worth of homes on the market back in May of both 2011 and 2009.  You'd have to go back to the boom years of 2002 – 2004 to find such tight market conditions in town.
Strong seller's market in Franklin
Today's 3 month supply of homes in Franklin, MA puts this highly desirable community at the forefront of hot real estate towns along the I495 corridor.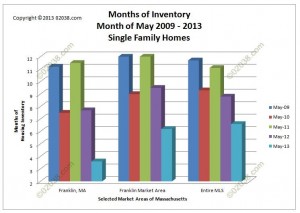 While low inventory rules the Franklin real estate market, conditions are not as tight in the regional market surrounding Franklin and indeed for most of the Bay State as a whole.  In both those broader markets, there's about a 6 month supply of homes.  Certainly there are other communities in the Greater Boston area where supplies are as low (or even lower) than they are Franklin, but you would be hard pressed to find a town in the I495 loop with a lower inventory of available homes than in Franklin, MA.
Why are homes in Franklin in such great demand?
Here's why so many people want to live in Franklin, Massachusetts: Franklin offers attractive home prices with many young subdivisions of colonial homes, a prime location on I495 equidistant from Boston, Worcester and Providence, great childcare services, superb public schools, superior recreational resources (including a YMCA and other tennis and swimming clubs), a vibrant arts community, lot of fun fairs and community activities, and plentiful nearby shopping.  In essence, Franklin is a wonderful place to live and raise a family!
Copyright ©2013 02038.com