Motorists on Lincoln Street north of Brook Street in Franklin, MA should be prepared for delays now into the fall as sections of the busy street will be limited to one lane traffic.  Construction crews will be active on Lincoln Street for several months installing new water pipes and sewer drains.
Lincoln and Daniels Streets affected
Quite an extensive stretch of Lincoln Street in Franklin, Mass will be worked on in coming months. Construction will open the Lincoln Street roadbed in sections roughly from Brook Street to Daniels Street.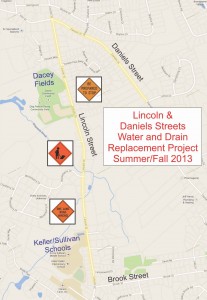 Before all work is completed in the fall, new lines will also be installed on Daniels Street (from its intersection with Lincoln Street up to Lenox Drive).
Video of road work
Below is a video of what to expect on Lincoln Street while the water and sewer installation work progresses:
As of late July 2013, the lane closure begins near the intersection of Brook Street and Lincoln Street.  The lane closure will move north on Lincoln Street as construction progresses towards Daniels Street.
Delays not to onerous – for now
The Lincoln Street work appears to be being conducted in a very efficient manner: traffic is held and then routed past the workers and equipment on the closed lane fairly quickly.  You can expect about a 3 – 5 minute delay currently.  But we are currently in the more slow-paced summertime with people on vacation and no schools in session.
The traffic holdup might start to take longer as children head back to school and drivers return from vacation.  Some smart planning is in evidence in that work near the Keller Elementary School and Sullivan Middle School is being done now while the schools are closed for summer
In any event, it's good to see infrastructure upgrades to Franklin, MA's public water and sewer systems getting done!  Follow the link to learn more about life in Franklin, Massachusetts.
Copyright ©2013 02038.com