Home prices across the Bay State moved higher during the first half of 2013.  The median sales price of single family homes sold during the first six months of the year on MLSPIN rose an impressive 9.3% compared to 2012's first half results.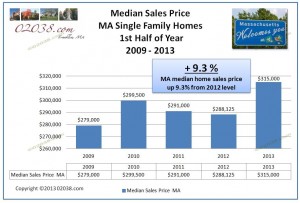 Home prices surge on Case-Shiller Index
The substantial jump in Massachusetts house values is confirmed by another influential measure of the MA real estate market.  The seasonally adjusted Case-Shiller Home Price Index for Greater Boston has posted strong gains so far in 2013.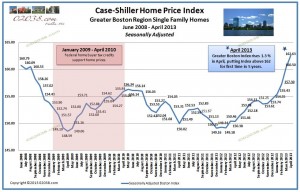 The Index for April 2013 (the latest results available for the Index) rose 1.3%, putting the Greater Boston Index above 162 for the first time in 5 years.
The longer term view of Greater Boston home values
Looking at the seasonally adjusted Greater Boston Index on a longer time range shows the 2013 run-up in home prices in better context.  While Greater Boston home prices as tracked by the Index have risen over 8 percent in the last 12 months, they still have a considerable way to go before they recover all the value lost during the Great Recession.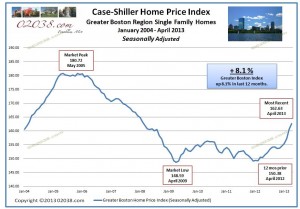 MA home sales volume up
The number of single family homes sold in Massachusetts during the first half of 2013 rose a modest 3.3% compared to the first 6 months of 2012.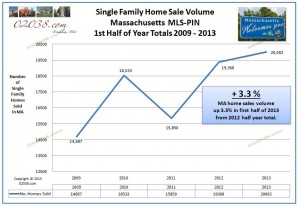 The small gain followed a huge surge of home sales in 2012 which saw home sales rocket upwards by over 22% in the first half of that year. Real estate sales volume in MA this year has been hampered by a lack of homes available for purchase.  A dearth of inventory in desirable communities throughout Greater Boston and the I495 region restrained the growth of sales volume during the first half of 2013.
Franklin, MA real estate recap for 1st half of 2013
Home sales volume in Franklin, MA moved sharply higher during the first half of the year.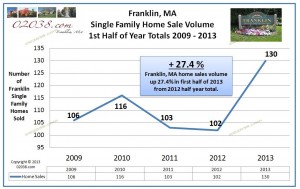 Home sales volume in this popular I495 community spiked 27.4% over year ago levels.  Strong home buyer demand powered the home sales surge.  At times during the first half of 2013 there were not enough homes for sale in Franklin to meet the needs of prospective purchasers.
Home buyers flocked to Franklin, Massachusetts in the first half of 2013, drawn by its hard to beat mix of affordable housing, great public schools, plentiful recreational resources and lots of fun activities for children. Franklin offers a delightful small town lifestyle (as demonstrated by the multi-day July 4th Celebration Franklin holds annually) with big city shopping and services.  It's simply a great place to live!
Franklin median sales price understates market conditions
At $369,250, the median price of single homes sold in Franklin during the first half of the year hardly budged from where it was a year ago.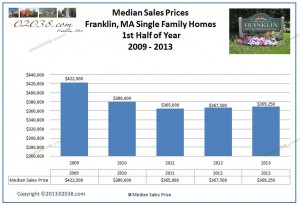 This seems to be a statistical anomaly that understates buoyant market conditions experienced in Franklin in 2013 and especially during the 2nd quarter of the year.
While the median sales prices for upscale colonial and cape homes in Franklin jumped significantly in the first half of 2013, the overall Franklin median sales price was just about unchanged compared to one year ago. That is due to the fact that of 130 sales in Franklin on the MLS during the first half of 2013, 14 were under $250K and an additional 20 ranged in price from $250K to $299K. These lower-priced sales helped keep the overall Franklin median sales price statistic in check.
That being said, home prices in Franklin, MA remain relatively affordable, especially compared to the sky-high prices you'll find in communities such as Medfield and Hopkinton.  The housing stock in Franklin represents a true bargain for home buyers looking in the I495 corridor.
Housing inventory remains low
A big factor in how the Massachusetts real estate market will perform for the rest of 2013 will likely be the low supply of homes for sale.  Where supplies are the lowest, it can be very hard to find a good home to buy in MA!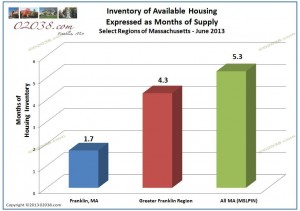 Just look at current inventory levels of homes in Franklin shown in the chart above.  At mid-year, there were only 1.7 months of supply of homes for sale in town.  That's extremely low and is comparable to the constrained supply of available homes in top drawer communities closer to Boston.
If you are thinking of selling your Franklin home, the current low inventory in town is a great opportunity!  Contact me to explore your best home selling options; I've helped many prospective home sellers make smart moves!
Copyright ©2013 02038.com