Nothing goes up in a straight line forever.  After rising nearly 6% over 8 consecutive months since last October, Greater Boston home prices moved fractionally lower in June (-0.2%)  as mortgage interest rates rose.  The sudden stall in metro-Boston home prices was documented in the latest edition of the Case-Shiller Home Price Index for Boston (seasonally adjusted version).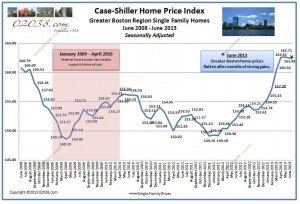 Between October of last year and May 2013, the seasonally adjusted Boston Home Price Index shot up 5.9%, propelled by enthusiastic demand from home buyers and extremely low mortgage interest rates.
Rates rise, home prices stall – a cause or coincidence?
The pause in Greater Boston home prices in June comes on the heels of a significant rise in mortgage interest rates.  Despite speculation to the contrary in the Boston Globe, this may have been a more of a coincidence than a cause-and-effect, given how low mortgage rates remain.
From an absurdly low 3.35% in April, 30 year fixed mortgage rates rose to 4.46% by the end of June according to Freddie Mac.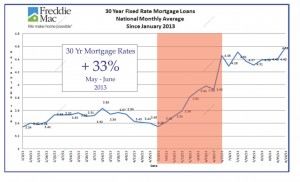 While this amounts to a large 33% percentage increase in the average rate, 30 year mortgage rates today remain a bargain.
Mortgage rates have bounced around since June, and at current levels are extremely attractive on a historical basis.  Accurately forecasting the future is very problematic.  But you might not want to bet the farm on any significant tapering-off  of home buyer demand due current mortgage interest rates as we enter the prime fall home selling season in Massachusetts.  In fact, rate spikes such as we have had this summer often spur more home sales as buyers rush to lock in rates out of a fear that rates may rise further in coming months.
Fall market will tell
We'll have to wait to see how MA home prices fare this fall before we know for sure whether the rise in mortgage rates caused (or just coincided with) the June's leveling off of the Boston Home Price Index.  If rates were to jump sharply again this fall, all bets would be off.  Otherwise, June's down tick in home prices may become in hindsight a mere blip on the radar screen. Keep checking back with 02038.com for updates – it promises to be very interesting!
Copyright ©2013 02038.com