Greater Boston single family home prices spent another month treading water in July, marking the third month in a row that metro Boston home values have been flat.  As tracked by the seasonally adjusted Case-Shiller Home Price Index, metro Boston home prices have been effectively unchanged since last April. (July 2013 is the most recent month covered by Case-Shiller.)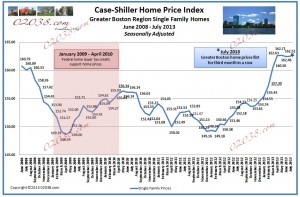 This puts the Boston Index up 4.6% so far in 2013.  All of those gains came between January and April, following on the heels of strong home price appreciation in 2012.
Market breather or interest rate impact?
The three month pause in the rise in Greater Boston home prices occurred against the backdrop of an abrupt increase in mortgage rates earlier this year.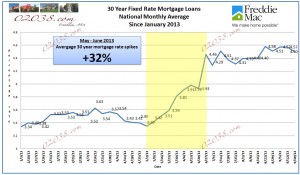 The average interest rate for 30 year mortgages rose from 3.35% to 4.46 % over a space of 8 weeks in 2013 according the Freddie Mac.  That 32% increase in mortgage carrying costs unfolded roughly from May to June. The Case-Shiller Boston Index stalled out starting in May.  It's mighty tempting to say that the rise in rates immediately impacted MA home prices.
However, the sales prices of home transactions that closed in May (went of record at the local Registry of Deeds) reflect deals struck one to two months earlier.  With the prevalence of mortgage rate locks, it would seem illogical to say that May home sales prices were influenced by changes in mortgage rates that began in May, long AFTER the houses went under agreement and rate locks went into place.  Even many buyers of homes who closed in June would have had the protection of rate locks set in late April or early May before the brunt of the rate increases.
Previous pauses
After the pronounced run-up we had in home values since January 2012, it is possible the market was due for a breather.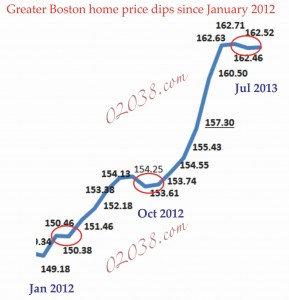 As you can see on the image above, Greater Boston home prices have experienced other small dips and temporary plateaus since the price recovery began in earnest back in January 2012.  So perhaps the current lull will yield to a resumption of the upwards trend.
If Greater Boston home sale prices continue flat (or even sag) in coming months, however, we'll have more convincing evidence that the increase in mortgage rates may be negatively affecting home prices in the Bay State.
Copyright ©2013 02038.com