Stumped about what to throw out and what to recycle in Franklin, MA? Have large items that don't fit in your trash or recycling carts? The Recycling Center in Franklin, Massachusetts has the answers!
Curbside pickup works well
Franklin residents get weekly curbside pickup of trash and recyclable materials.  The service is provided by Waste Management using their 65 gallon carts.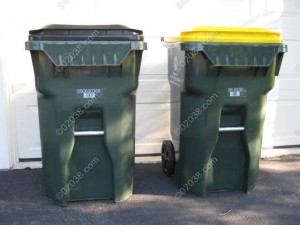 Each residence gets two carts: one for trash (black lid) and one for recyclables (yellow lid).  A nice benefit of this service is the single stream recycling – all recyclables go into one container.  This makes it very easy to recycle in Franklin!
New brochure
Waste Management has just issued its 2013-2014 solid waste brochure and calendar for Franklin, Mass.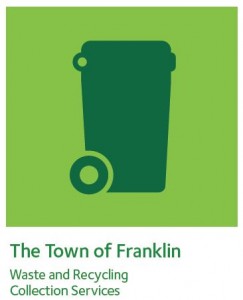 Follow the link or the image above to access the brochure.
The brochure gives an informative overview of what can and cannot be disposed of and recycled via the curbside pick-up service.  The brochure tells you what to do with bulky items that don't fit in the carts.  A handy calendar of special collection days (for yard waste and Christmas trees) is also provided.
Modern life makes a lot of "stuff"
It can be daunting determining how to get rid of all the everyday items and materials that accumulate over time in the typical household. While it's easy to put bagged trash and garbage into the waste cart and newspaper, magazines, cans and bottles into the single stream recycling cart, how do you determine what other items can be recycled?  How do you recycle metal or rigid plastic appliances?  TVs and electronic appliances?  Yard waste?
Downloads with answers
The Franklin Recycling Center's homepage on the Franklin town website provides the answers in the form of several downloads; here are a few of the most important ones:
Permit stickers
Franklin, MA residents are able to buy an access permit (car windshield sticker) to use at the Franklin Recycling Center.  The permit is good for one year and expires on June 30 of each year.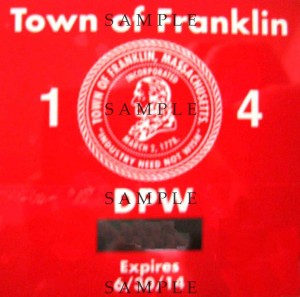 Follow the link or the image above to learn how to get a permit sticker in Franklin, Mass.
Recycling Center location
The Franklin Recycling Center is located at 445 Beaver Street, Franklin, Massachusetts: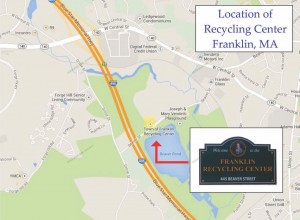 No "take it or leave it" area
The Recycling Center does not have an area where one can leave items with remaining useable life for someone else to take.  There used to be such an area at the Center, but it was discontinued as a potential liability risk.  The Recycling Center provides the following explanation:
"Some years ago there was a "give and take" area at the Recycling Center. There is not one any longer. It was a fairly popular area; however, it was also problematic. There were altercations and accidents. On one occasion, an individual actually fell into one of the containers. For safety reasons that is no longer allowed. That being said, if the attendant sees something like a child's bike being dropped off, they will set it aside for the taking until the end of the day."
Copyright ©2013 02038.com