Need help from your local government with a quality of life concern like a pesky pothole, broken street light, unplowed street or other municipal service issue?  Now there's an app for that! The Town of Franklin, MA has joined Commonwealth Connect, a web platform with related smart phone applications currently used by over 40 MA cities and towns to help get local problems solved fast.  Residents of Franklin, Mass can use the app or go on-line to quickly and easily make requests for town services.
New system publicly posts complaints and service requests
The system created by SeeClickFix employs a social media function to enable residents to publicly post the location and description of problems in town and automatically generate service requests that get routed to the appropriate municipal department for resolution.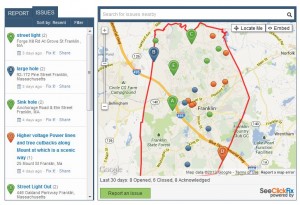 You don't need to know which department to send your complaint to – the system does that for you!  Each request gets a tracking number and stays visible on-line for public comment and monitoring of the eventual resolution by the municipality.  You can get the app from the iTunes App Store and Google Play Store.
How the system is being used across the US
You can visit the SeeClickFix website to see how the system on which Commonwealth Connect is based is being used in participating cities across the nation.  In cities like Albuquerque, Chicago and  Minneapolis, the system is being used in to post issues in a broad range: zoning and use violations, housing code issues, problems on municipal properties, illegal dumping and parking violations are posted and quickly responded to by the appropriate municipal department.  You name it, it looks like the system was designed to handle it.
Benefits of the system
The social media sharing function of the Commonwealth Connect system creates an impetus for the resolution of local problems.  As more and more issues get reported and resolved, this should foster a public mindset  that irritating quality of life problems can be solved rather than merely tolerated.  Commonwealth Connect promotes cleaner, better functioning and more livable municipal environments.
The second benefit of the system lies in what the public can't see: its back-end platform for municipal department heads and workers.  The system comes with robust internal routing and tracking functions that make it easy for municipal departments to send work orders to municipal employees and monitor completion of the assigned jobs.  The software can save municipalities a lot of time and money.  It's great to see how technology can save money, increase efficiency and enhance the quality of civic life!
 Get involved!
So the next time you hit a pothole in Franklin, MA or see something wrong in your neighborhood the town should know about, use Commonwealth Connect to make a report.  You'll make a difference by getting involved!
Copyright ©2013 02038.com