Home prices in Greater Boston rose 0.5% in August as continued strong demand coupled with low housing inventory caused Metro Boston home values to move upwards after a 3 month pause.  According to the seasonally adjusted S&P/Case-Shiller Index, home prices in Greater Boston had leveled off between May and June after earlier strong gains.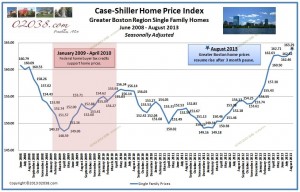 August's data puts Greater Boston home values ahead 5.9% on a yearly basis from August 2012.  The Boston Index is up a solid 9.9% from the market low set in April 2009.
Bidding wars for prime properties
The strong demand for homes in MA continues to create highly competitive conditions for some homes.  In a recent article in the Massachusetts real estate trade publication Banker and Tradesman, agents are quoted describing bidding wars breaking out over desirable homes in good locations thoughout Metro Boston:
"It is still crazy. Every time we turn around we're in a multiple offer situation. Recently I had one of mine go $20,000 over asking before the open house even started. [My buyer] actually countered that with another $5,000, which they accepted," said Joe Schutt, broker/owner of Unit Realty Group in Boston. "I have a client looking out in Lincoln, and I recently went through a multiple-offer situation out there where they went $40,000 over asking and still didn't get it."
(Banker and Tradesman limits access to online content, so you won't be able to read the entire article without buying a subscription.)
Still a buying opportunity
Despite the strong demand for select homes in Greater Boston, regional home prices still have a long way to go before they match prices seen during the housing boom years.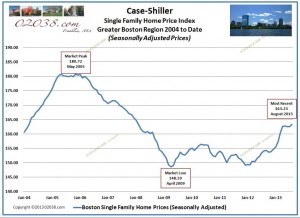 As you can see from the chart above, there's ample opportunity to buy a home in MA at a steep discount from the 2005 market top.  Given the strong Massachusetts economy and lack of new home construction in the Bay State, we should see continued upwards pressure on MA home prices – so buyers hesitating on the sidelines beware!
Copyright ©2013 02038.com