Greater Boston single family home prices are rising robustly according to new data released by S&P Dow Jones Indices, publisher of the S&P/Case-Shiller Home Price Indices.  The seasonally adjusted Case-Shiller Index for Boston shot up 1.3% in September, the fastest-paced increase since earlier in the year.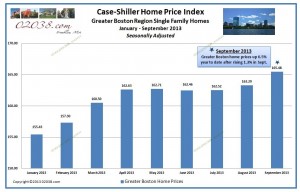 Growing economy drives home prices higher
From January – September 2013, single family home prices in Greater Boston advanced 6.5%., spurred by a growing Massachusetts economy and strong demand.  The Bay State has enjoyed solid jobs growth in 2013, according to Northeastern University professor Alan Clayton-Matthews.  As reported by WBUR, the NPR radio station in Boston , the Northeastern professor predicted continued economic expansion in MA over the next two years in a presentation he recently made to the New England Economic Project:
"We've surpassed our prior recession employment peak, but we haven't surpassed the all-time peak, which was just before the Dot Com bust, and this forecast assumes that we're going to hit that peak again by the end of next year, near the end of 2014," said Clayton-Matthews, who said employment in Massachusetts should rise 1.4 percent in 2014 and 1.9 percent in 2015 before leveling off because of demographic trends."
Room to rise?
The Case-Shiller Index for Greater Boston remains well off its 2005 peak.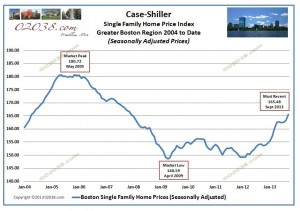 This comes at a time that home prices are rising powerfully in many regions of the US, making the gains so far this year in Massachusetts look restrained.
As reported recently by Forbes, many metro regions across the US have seen double digit gains over the last 12 months:
"Regionally, the West continues to lead with Las Vegas gaining 29.1% year-over-year followed by San Francisco at 25.7%, Los Angeles at 21.8% and San Diego at 20.9%," says David M. Blitzer, chairman of the Index Committee at S&P Dow Jones Indices, in a release. "San Francisco and Los Angeles showed their highest annual returns since March 2001 and December 2005. Although Chicago has not reached double-digit growth, the city recorded its highest year-over-year gain since November 2005."
The fact that these double-digit surges in real estate values have yet to hit Massachusetts may mean that there's a lot of room to run for local home prices in coming years.  If you're thinking about buying a home or investment property in MA, you may want to take advantage of today's current low mortgage interest rates and make your move while Bay State real estate prices remain a relative bargain.
Copyright ©2013 02038.com