You've come to the right place if you want to get the inside story on 2013′s dynamic market for colonial homes in Franklin, MA. In this post you can download your 2013 Franklin Colonial Home Market Recap.  It's a colorful, fact-filled report covering all the action with colonial home sales in Franklin during the year just ended.  You'll also get the lowdown on the complete Franklin and Massachusetts real estate markets in 2013.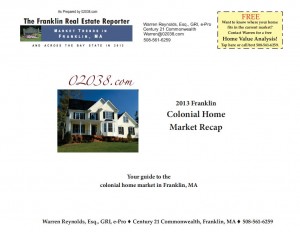 It's free!  Just tap (or click) the image above or follow the hotlink to download your Recap.
If you're thinking of selling your Franklin colonial home in 2014, find out what your property is really worth . . . contact Warren for your free, no-obligation Home Value Report!  No obligation!
Here's just a bit of what you'll get in your 2013 Franklin Colonial Home Market Recap:
Franklin colonial home median sales price rises
The median sales price of colonial homes in Franklin, Massachusetts rose 4.6% in 2013 over 2012's median.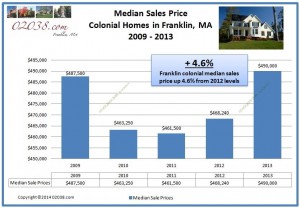 The gain was the best price performance turned in by Franklin colonials since 2009. (All data from MLS-PIN, the dominant MLS in the Commonwealth.)
Sales volume declines for Franklin colonials in 2013
Franklin colonial sales volume declined 12% from year ago levels.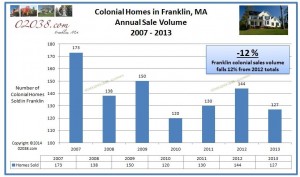 The drop certainly did not arise out of any lack of demand for Franklin colonial homes in 2013. Overall home sales volume in Franklin rose 11% in 2013.  Rather, the drop in the number of colonials sold appears to stem from an inadequate supply of colonials for sale in town. The inventory of Franklin colonials became extremely limited during the second half of the year.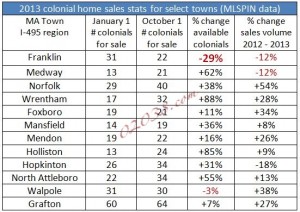 As you can see from the above chart, the inventory of colonial homes for sale fell precipitously in Franklin during 2013.  This caused Franklin colonial sales volume to fall 12% from year ago levels.  The lagging sales of colonials in Franklin during 2013 was not due to lack of demand.  Franklin home buyers were intensely interested in what colonial homes were available for purchase in Franklin during the year.
Why did colonial home inventory become so limited in Franklin?
It's pure speculation on my part, but the upcoming opening of the new Franklin High School may be playing a role in keeping colonial homes off the market in Franklin!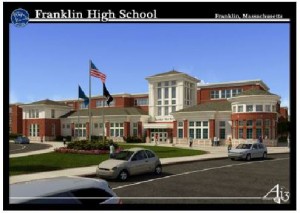 Download the 2013 Franklin Colonial Home Market Recap to see why the new high school may be helping keep larger homes (mostly colonials) in Franklin off the market.
If you are thinking of buying or selling a home in 2014
If you are in the market for a home in Massachusetts, Franklin is a great choice!  It has wonderful schools, superb recreational resources, many fine neighborhoods and plentiful shopping in town and near by.  Commuting to work from Franklin is made a whole lot easier by Franklin's two commuter rail stations.  Contact Warren for help buying a home in Franklin, MA!
2014 may see continued low housing inventory coupled with elevated demand for Franklin listings.  Prospective Franklin home sellers may want to take advantage of these favorable conditions while mortgage rates are still low.
Please contact Warren to get expert advice on your best housing options and strategies for 2014.  Here's to a happy, healthy and prosperous year!
Copyright ©2014 02038.com