2013 was a good year at the Franklin Crossing Condominiums in Franklin, MA.  Six units changed hands while the average sales price at Franklin Crossing rose for the second year in a row.  (All data in this report derived from MLS-PIN, the dominant MLS in the Commonwealth.)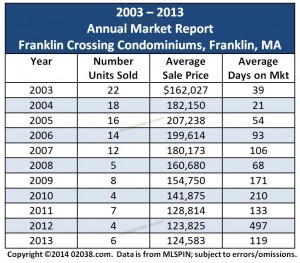 Average sales price gain understates rise in condo values
The gain in average sales price at Franklin Crossing for 2013 was a miniscule 0.6%, but this statistic gives a misleading read on home values at the condo community.  Of the six unit sales at Franklin Crossing during 2013, three sales had low prices that skewed the average sales price downwards.
One low-priced unit was a short sale that had sat neglected for over a year.  It had failed to sell in 2012 with a days on market (DOM) of over 400.  This unit came back for sale in 2013 at a low price that produced an accepted offer fairly quickly.  The second sale was one of the only six one bedroom units at Franklin Crossing. This home sold for well over assessed value, but since it had only one bedroom, the relatively low sale price of this unit further skewed the average sale price at Franklin Crossing down.  The third low-priced sale at Franklin Crossing in 2013 was an estate sale with a quick-sale price.  This unit went under agreement in four days.  It likely could have set a higher asking price and still readily found a buyer.
Download sales report
You can follow the hotlink to download a report on all six sales at Franklin Crossing in Franklin, Massachusetts or you can tap (or click) the image below: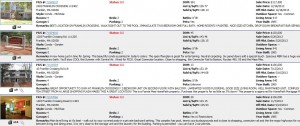 It is reasonable to ignore the three low-priced sales at Franklin Crossing and focus on the average sales price of the other three Franklin Crossing units that sold during the year.
The average sales price of those remaining three units was $134,000 with a DOM of 26 – a much better showing for Franklin Crossing transactions in 2013!
Prices at Franklin Crossing moving higher
As 2014 gets underway, unit values at Franklin Crossing clearly are on the rise.  There were two units under agreement at Franklin Crossing in mid-January 2014.  Both were two bedroom homes.  One was asking $134,900 and the second was a renovated unit asking $139,900.  The latter unit found a buyer almost immediately.  These pending sales confirm the rising market values at Franklin Crossing.
Also in mid-January there were two Franklin Crossing units for sale.  One was asking $144,900 and the other was for sale at $149,900.  If these units sell close to asking, this will mark a further significant price increase as this attractive garden condo community in Franklin, MA.
2103 real estate recap for Franklin
2013 was also a good year for the overall real estate market in Franklin.  Homes sold briskly and inventory levels were increasingly tight as the year progressed.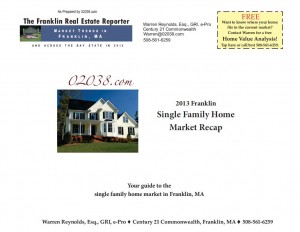 Tap (or click) the image above or follow the hotlink to download the Franklin, MA Home Market Recap for 2013.
If you're thinking of selling your Franklin Crossing condo in 2014, find out what your property is really worth . . . contact Warren for your free Home Value Report!  No obligation!
Learn more about the Franklin Crossing Condominiums
Franklin Crossing provides attractive homes at an affordable price.  Units are modern and the common areas are nicely maintained.  This condo community is within walking distance to a major shopping center and provides easy access to I-495 and one of Franklin's two commuter rail stations.
Contact Warren for help buying a home in Franklin, MA!
Copyright ©2014 02038.com