The number of single family homes that changed hands in Franklin during 2013 increased 11% over home sales closed in 2012.  Demand for homes priced to market was very strong in town for most of the year.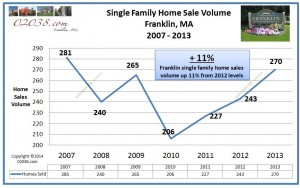 As 2013 progressed, the inventory of colonial homes for sale in Franklin became especially tight. Franklin ended 2013 with an extremely low 1.8 months' supply of single family homes for sale.  (Franklin's tight housing inventory may be a byproduct of the new high school being built in town – see more on this below.)
Median sales price performance misleading
Sometimes median sales price statistics can be misleading.  That's the case with Franklin's 6.6% decline in median sales price for 2013.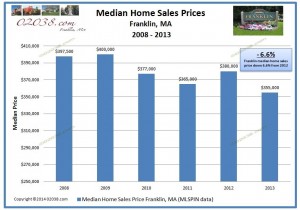 The drop certainly did not arise out of any lack of demand for Franklin homes.   Rather, the median price drop appears to have been caused by the reduced number of colonial homes sold in Franklin during the year.  The supply of Franklin colonials became so constricted in 2013 that colonial sales volume actually declined 12% from year ago levels. Since colonial homes tend to be the most expensive home style in Franklin, the reduced number of colonial homes sold during 2013 helped skew Franklin's median sales price lower.
Get the full 2013 Franklin Home Market Recap
Want to know all the details about 2013's active market for homes in Franklin?  Get a colorful, fact-filled report recapping the action in Franklin and the broader real estate market in Massachusetts during the year just ended.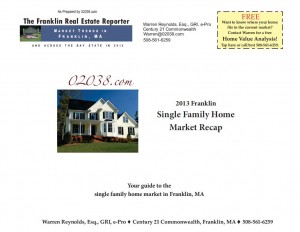 It's free!  Just tap (or click) the image above or follow the hotlink to download your Recap.
If you're thinking of selling your Franklin home in 2014, find out what your property is really worth . . . contact Warren for your free, no-obligation Home Value Report!  No obligation!
If you are in the market for a home in Massachusetts, Franklin is a great choice!  It has wonderful schools, superb recreational resources, many fine neighborhoods and plentiful shopping in town and near by.  Commuting to work from Franklin is made a whole lot easier by Franklin's two commuter rail stations.  Contact Warren for help buying a home in Franklin, MA!
Good year for Massachusetts real estate in 2013
The number of single family homes sold in Massachusetts during 2013 rose 7.8% compared to prior year totals. (All data in this post derived from MLS-PIN, the dominant MLS in the Commonwealth.)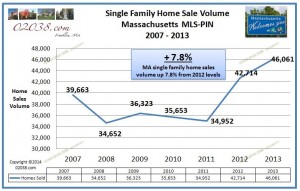 The gain comes on the heels of a remarkably strong 22% spike in MA home sales in 2012. In this context, 2013's sales volume increase is very encouraging in that it demonstrates a sustained, durable strengthening of demand.
MA home prices on the rise
The median sales price of all MA single family homes sold in 2013 on MLS-PIN rose 10% over 2012's median.
This was the best performance for home prices in the Bay State since before the worldwide financial crisis of 2007 – 2009. The seasonally adjusted Case-Shiller Home Price Index for Greater Boston was up 7% for the year through October, giving further confirmation of the rise in MA home values.
Why did Franklin's median sales price drop in 2013?
According to MLS-PIN, the median sales price of single family homes in Franklin slipped 6.6% in 2013 to $355,000 (from $380,000 in 2012).  The decline came despite overall strong demand for Franklin homes for most of the year.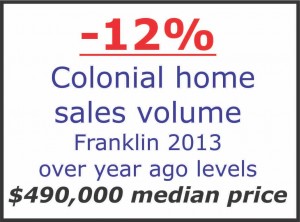 The drop in the 2013 Franklin median sales price statistic seems to stem from a decline in the annual number of colonial homes sold in town. The supply of Franklin colonials for sale during the year was very restricted, resulting in a 12% decline in the number of colonial homes sold in 2013.  Since colonials tend to be the most expensive homes in Franklin, the drop in sales volume of colonials drove the median price of all homes sold in Franklin lower.
While fewer colonial homes changed hands in Franklin during 2013, sales of smaller, less expensive home styles spiked in town, reflecting the high demand for homes in Franklin.
2013 was characterized by generally robust demand for single family homes in Franklin, MA.  Sales volume of antique homes in Franklin soared 81% over 2012 totals.  Ranch home sales volume rose 58% while split level sales were 50% over year ago levels.
Franklin's median sales price skewed lower
The chart below shows the distribution of homes sales in Franklin by price bracket.  2013's sales are in red, while 2012's sales are in blue.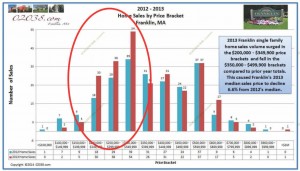 You can see that in 2013 Franklin had relatively more sales in the $200,000 to $350,000 price brackets than it had in 2012.  Sales in the $350,000 – $499,900 brackets fell.  This "shift" caused the statistical decline in the 2013 Franklin median sales price; the relative increase in the number of lower-priced sales in 2013 helped drive the median price lower.  Actually 2013 was a very GOOD year for real estate in Franklin, MA but  the restricted supply of colonials in town during 2013 drove colonial sales volume lower.  Since colonial homes tend to be the most expensive house style in Franklin there was a relative "shift" downwards in sales price brackets in 2013 compared to 2012.  Hence the decline in the median price statistic!
New Franklin High School behind the lack of colonial home inventory in town?
The new Franklin High School is slated to open next fall.  This is attracting more buyers to Franklin.   The advent of the new facility also appears to be inducing some Franklin families to decide not to sell.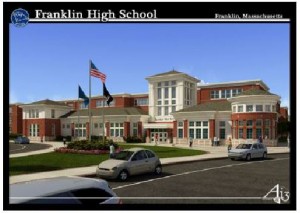 Colonial homes in Franklin tend to be larger than other home styles in town.  It is reasonable to assume that colonials accommodate larger families with more school age children. It might possibly be that a significant number of colonial home owners in Franklin who have children in the Franklin school system opted not to sell their homes in 2013 because they wanted to stay in Franklin to benefit from the new Franklin High School.  This might be the reason behind the decline in colonial home inventory in 2013.
A look ahead to the 2014 market in Franklin, MA
2014 may see continued low housing inventory coupled with elevated demand for Franklin listings.  Prospective Franklin home sellers may want to take advantage of these favorable conditions while mortgage rates are still low.  One final takeaway from 2013: despite low housing inventory and robust demand for homes in Franklin, listings that were priced too high – even colonial homes – did meet resistance from buyers.  It always pays to price properly!
Please contact Warren to get expert advice on your best housing options and strategies for 2014.  Here's to a happy, healthy and prosperous year!
Copyright ©2014 02038.com