As February 2014 approaches, the Massachusetts real estate market is facing potentially incendiary conditions. Bay State home prices are on the rise, the supply of properties for sale is falling and mortgage interest rates remain extremely low. This combustible trifecta of rising prices, scant supply and cheap mortgage money may be setting the stage for a sizzling spring home selling season this year.  You may see price volatility and bidding war fireworks up and down the I-495 corridor unless a lot more listings hit the market soon!
Greater Boston home prices on the rise
The latest edition of the seasonally-adjusted Case-Shiller Home Price Index for Boston confirms the upwards pressure on Bay State home values.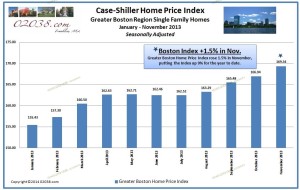 The Index is published monthly with a 2-month delay, so November 2013 is the most recent read on regional home prices provided by the Index.  According to the Index, Metro Boston home prices rose a healthy 1.5% in November.  This puts the Index ahead 9% for the first 11 months of 2013.  Follow the hotlink for a full recap of the 2013 MA real estate market (with a special focus on developments in the Town of Franklin, MA).
Homes for sale scarce in Franklin, MA
2013 saw many home buyers flock to towns along I-495  in search of available housing after being priced out of popular communities closer to Boston. Incredibly thin supplies of homes for sale sparked intense bidding wars throughout Greater Boston in 2013. These tight housing conditions appear to be spreading in the I-495 region as 2014 gets underway: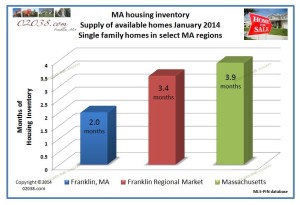 As of late January, the Town of Franklin leads the way in terms of low housing inventory in the region.  There currently is a miniscule 2 month supply of homes for sale in Franklin.  (Anything less than a 3 month supply is considered inadequate to satisfy the needs of home buyers.)  At 3.4 months of supply, the inventory of available homes in the regional market surrounding Franklin is a bit more sufficient but remains constrained.  Even taking the Commonwealth as a whole, the 3.9 months of supply currently available across Massachusetts is quite a change from a few years ago where 8 to 9 months of supply statewide was the norm.  Talk about lack of choice!
If the supply of homes remains this tight during the upcoming prime spring home selling season there may be further gains in real estate prices during 2014.
Low mortgage rates may further inflame market
The final factor playing a major role in what 2014 has in store for the real estate market in Massachusetts is mortgage interest rates. Despite an appreciable rise in mortgage rates half way though 2013, the cost of purchase money mortgages currently remains a bargain.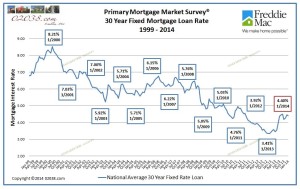 Mortgage rates were in the 8% range back in late 1999 and early 2000.  Even compared to the 6% mortgage rates prevalent as recently as 2007, today's  30 year fixed rates which hover in the mid-4% range are very attractive.  Demand is still being stimulated by such low rates.
Word of caution to home sellers about asking prices
The natural reaction of prospective home sellers to all the above bullish news would be "price high – we can get what we want for our house!"  But seller beware, there is a nasty undertow waiting to ensnare unwary home sellers who enter the home sale waters with an over-market asking price.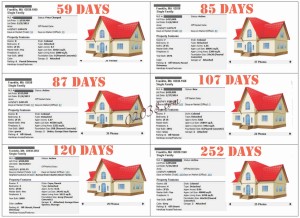 The above 6 listings are all real listings in Franklin.  Their days on market is shown in red.  I took out the photos and obscured the addresses and MLS numbers to preserve seller privacy. These homes have sat unsold on the market for  weeks and even months while other competing homes have come on the MLS and have sold around them.  You can find listings similar to these Franklin listings in just about every town up and down I-495.   The common problem all these long-in-the-tooth listings share is an asking price that was set too high in relation to what each home had to offer.  It all comes down to price and buyers have rejected these listings due to their high prices.  So you can over-price your home in the current market and get rejected by buyers even though home prices are rising, there's not much competition on the market and mortgage rates are low.
If you are buying or selling a home
If you are in the market for a home, get your mortgage pre-approval in hand early.  Be ready to jump on new listings as they hit the MLS.  You can use 02038.com to see Franklin homes for sale by school district, by house style and by neighborhood.  If you have a home to sell, get it on the market and under agreement so you'll have effective purchasing power when a home you want to buy comes your way – ask Warren how to buy a home when when you already have one you have to sell.
If you're thinking of selling your home, you are in luck – this is the best market for home sellers in the last 7 years!  Just avoid the temptation to over-price!  Contact Warren Reynolds if you'd like to get a reliable estimate of what your home is really worth.  It's looking to be a great spring to make a move!