2013 was a very active year at Spruce Pond Village in Franklin, MA. Sales volume nearly quadrupled after two years of sparse sales activity.  Townhomes at Spruce Pond Village are not age restricted, meaning all ages can buy and live at this prestigious condo community.
Average sales price does not reflect current market values at Spruce Pond
The average sales price of townhomes at Spruce Pond Village in 2013 rose 2.3% over the prior year.  (All data in this report derived from MLS-PIN, the dominant MLS in the Commonwealth.)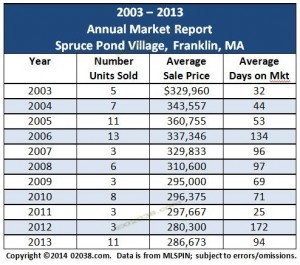 2013's average sales price statistic understates the true market value of homes at Spruce Pond Village as 2014 gets underway.  Of the 11 sales at Spruce Pond on MPS-PIN for 2013, four were holdovers from 2012.  These four townhomes had been put up for sale and had gone under agreement during the final months of 2012, but the transactions closed in 2013.  They thus counted as "2013 sales" even though the prices paid for these units actually reflect the much weaker market conditions then prevalent during 2012.  These townhomes would most likely have sold for considerably more money had they entered the market in the later part of 2013 rather than 2012.
Download full sales report
You can follow the hotlink to download a report on all sales at Spruce Pond Village in Franklin, Massachusetts for 2013 or you can tap (or click) the image below: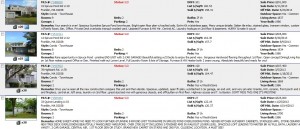 2103 real estate recap for Franklin
2013 was also a good year for the overall real estate market in Franklin.  Homes sold briskly and inventory levels were increasingly tight as the year progressed.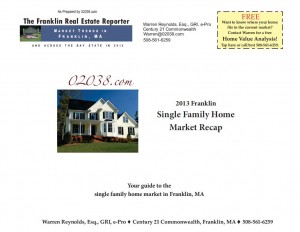 Tap (or click) the image above or follow the hotlink to download the Franklin, MA Home Market Recap for 2013.
If you're thinking of selling your Spruce Pond Village townhome, find out what your property is really worth . . . contact Warren for your free Home Value Report!  No obligation!
About Spruce Pond Village
Spruce Pond Village is one of Franklin, MA's most desirable non-age restricted condo communities, offering spacious townhomes with garages and basements, many with prime water views.  Spruce Pond enjoys a wonderful commuter-friendly location near shopping and medical facilities.
Contact Warren for help buying a home in Franklin, MA!
Copyright ©2014 02038.com