The market for Stone Ridge townhomes in Franklin, MA is looking up!  The average sales price of townhomes sold at Stone Ridge in 2013 rose  an impressive 16.4% over the prior year.  (All data in this report derived from MLS-PIN, the dominant MLS in the Commonwealth.)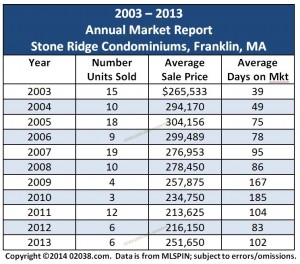 This was the largest increase in the average sales price at Stone Ridge since before 2003. Very welcome news indeed!
Map of all 2013 sales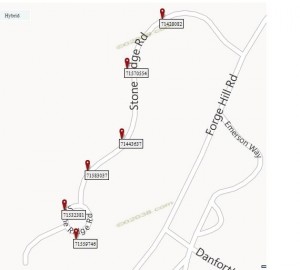 Six townhomes at Stone Ridge changed hands during 2013.  That's the same number of units that sold in 2012.  Average days on market (DOM) for 2013 rose compared to 2012, but that increase was due solely to the one short sale at Stone Ridge during the year just ended.  That unit had failed to sell in 2012, sitting unsold for nearly a full year. The townhome reentered the market in 2013 and found a buyer quickly, but the cumulative DOM for this offering was a huge 400+ days.  This one long DOM sale caused the rise in the overall average DOM at Stone Ridge for 2013.  Removing that one listing from the mix of 2013 transactions makes the average DOM of the remaining five sales at Stone Ridge for the year a very comfortable 35 days.
Download sales report
You can follow the hotlink to download a report on all six sales at Stone Ridge in Franklin, Massachusetts or you can tap (or click) the image below: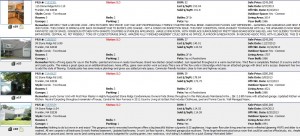 The price rise at Stone Ridge during 2013 came amid a pronounced strengthening of the  overall real estate market in Franklin, MA as the year progressed.  This improvement seems to poise Stone Ridge for further price gains in 2014.
2103 real estate recap for Franklin
2013 was a very good year for the real estate market in Franklin.  Homes sold briskly and inventory levels were increasingly tight as the year progressed.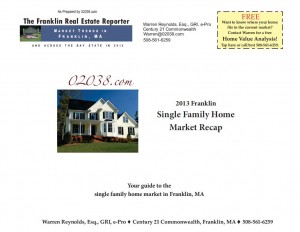 Tap (or click) the image above or follow the hotlink to download the Franklin, MA Home Market Recap for 2013.
If you're thinking of selling your Stone Ridge condo in 2014, find out what your property is really worth . . . contact Warren for your free Home Value Report!  No obligation!
Learn more about the Stone Ridge Condominiums
Stone Ridge is one of Franklin's best-regarded non-age restricted condominium communities.  Anyone of any age can live in these attractive townhomes.  This commuter-friendly condo community enjoys a wonderful location near shopping, the Forge Park commuter rail station and I-495.  It offers a nice pool facility with a clubhouse and is near walking trails and a YMCA that has a beautiful facility with many programs and services for all ages, including childcare and a summer camp for kids.
Contact Warren for help buying a home in Franklin, MA!
Copyright ©2014 02038.com