The seasonally adjusted Case-Shiller Home Price Index for Boston extended its gains for the last month of 2013, rising 0.6% in December.  December's rise put the Index up 9.6% for the year.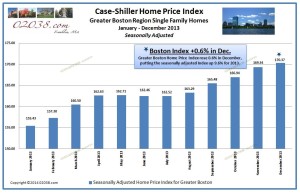 The Boston Index rose in two spurts in 2013: rising 4.6% from January through April and climbing an additional 4.8% from August to the end of the year.  The latter gain came on the heels of a short term lull in Greater Boston home prices between May and July of last year.
Upwards pressure on home prices continues in 2014
So far in 2014 there appears to be a strong upwards bias in Massachusetts home prices.  January's median single family home sales price in the Bay State was up 13% over year-ago levels according to data maintained by MLS-PIN.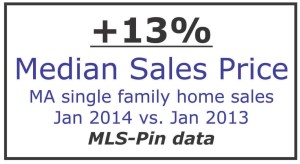 Single family home sales volume in Mass rose 1.4% last month compared to January 2013 despite the exceedingly cold, weather.  Inventories of homes for sale in Massachusetts have been extremely tight during the first two months of 2014.
If you are thinking of selling your home
Rising home prices, a dearth of available homes and continued low mortgage rates are setting the stage for an active spring home selling season this year.  Now is a great time to sell your MA home or investment property! Contact Warren to get your Home Value Analysis – it's highly informative and comes absolutely free, no obligation!
Copyright ©2014 02038.com