As the spring 2014 home selling season nears, the inventory of homes for sale in Massachusetts is stubbornly stuck at extremely low levels.  According to data maintained by MLS-PIN, there was only a 3.5 month supply of home for sale throughout Massachusetts in February.  That's about half of the 6 to 8 month supply needed for a market in balance and almost so low as to be functionally inadequate.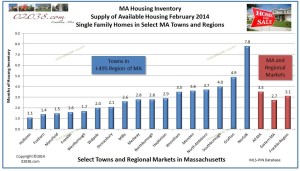 It gets much worse in many towns along the southern portion of the I-495 corridor, where 1 or 2 months of supply have become the new normal.  The Towns of Norfolk (with 7.8 months of inventory) and Grafton (with a  4.9 month supply of homes) are a couple of communities in the greater I-495 region where there are more generous supplies of homes for sale.  That's due largely to significant new construction in those towns; substantial new home inventories are almost non-existent in most towns up and down I-495.
Upwards pressure on home prices
The lack of supply is putting upwards pressure on home prices.  The median sales price of all single family homes sold on MLS-PIN rose 10% in 2013.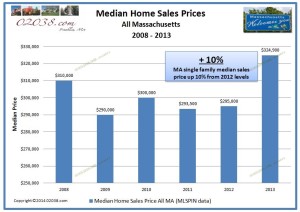 Based on overwhelming attendance at local open houses this February, we may be seeing stiff price appreciation this spring unless a lot more homes hit the market soon.
Keep checking back to 02038.com for updates as the spring 2014 housing market unfolds!
Copyright ©2014 02038.com