The median sales price of single family homes in Franklin, MA rose 6.1% in the first quarter just ended, compared to the first quarter of 2013.  This was the third advance in a row for the first quarter median sales price in town, putting Franklin home prices up a whopping 34% since the first 3 months of 2011.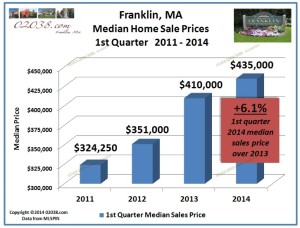 All price and sales data in this post pertain to single family homes in Massachusetts as provided by MLS-PIN.
MA home values rising strongly
For the Bay State as a whole, the first quarter 2014 median sales price rose an impressive 10%.  Compared to 2012's first quarter median, current home prices for all of Massachusetts are up 16.3%.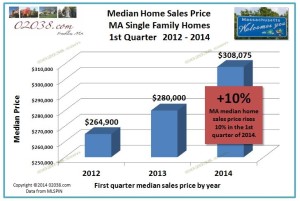 Upwards pressure on home prices keeps building in Massachusetts.   Rising home values throughout the Bay State will help accelerate economic activity and should spur more new home construction, which is sorely needed in the Commonwealth.
Restricted supply of homes hurts home sales volume
More new home construction is desperately needed in Massachusetts because the Bay State has been plagued  in recent years by inadequate inventories of homes for sale. 2014 has witnessed scant supplies of available homes  in Greater Boston and the I-495 corridor. The supply of homes for sale in Franklin, MA so far this year has been so tight that it squeaks!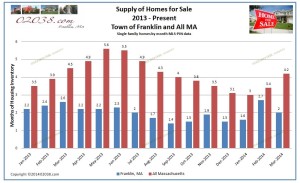 The chart above shows exactly how restricted inventory levels have been in Franklin (blue bars) and in the overall Massachusetts market (red bars) since January 2013.  Any homeowner in Franklin who is sitting on the fence about selling in 2014 take note: now would be an ideal time to make your move!  Contact Warren for a free Home Value Report for your home or investment property – no obligation!
Home sales volume down in 1st quarter of 2014
The lack of available homes to buy has hurt home sales volume so far in 2014.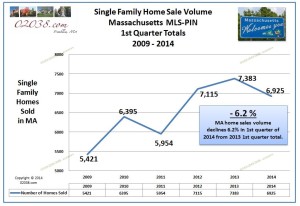 The number of single family homes sold in Massachusetts during the first quarter of 2014 was down 6.2% from the prior year's first quarter.  The decline stemmed from a general lack of supply of homes for sale, not from any waning of demand for homes.
The acute lack of housing inventory in Franklin, Mass so far this year played havoc with home sales volume in town for the first quarter.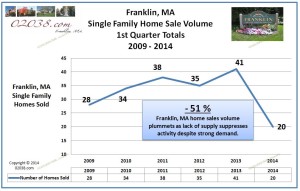 Franklin home sales volume plunged over 51% compared to last year's first quarter production.  Demand for homes in Franklin was robust but there simply weren't enough homes to go around.  We enter the spring home selling season with considerable pent-up demand in Franklin, MA.  So again, if you own a home in Franklin, Massachusetts and are thinking about selling, this is the perfect time to contact Warren and explore your options!
Copyright ©2014 02038.com