DelCarte Recreation Area in Franklin, MA gets better
The DelCarte Recreation and Conservation Area in Franklin, MA received its official new name at a ribbon cutting ceremony held Wednesday evening.
A throng of about 50 dignitaries and town residents attended Wednesday's event which celebrated the major improvements recently made to the 130+ acre DelCarte Area.  Large portions of the dam system have been rebuilt and the walking trails that wind around the ponds created by the dams have been widened and extended.  Visitors now can enjoy picturesque views, several walking trails, a picnic area and a playground for young children.

There's also a gravel boat launch and lots of spots around the ponds to try your luck with fishing.   The new parking lot for DelCarte is on Pleasant Street (the approximate address for GPS is 465 Pleasant Street, Franklin, Massachusetts 02038).  More improvements, including a boardwalk, are on tap.
What's waiting for you at the new, improved DelCarte
Here are videos of what you will find at the improved DelCarte Recreation and Conservation Area:
Large pond
Second large pond at Del Carte.
Another large pond
First of two large ponds at Del Carte.
Walking trails
There are pleasant walking trails at Del Carte.
Wildlife at Del Carte
Del Carte provides valuable wetland habitats for wildlife
Enhanced dam safety at DelCarte

The most expensive and necessary changes at DelCarte have addressed safety concerns with some of the seven earthen dams at the site.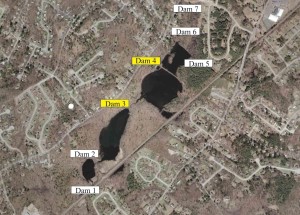 Some of these earthen dams were overgrown with trees and woody plant growth. This is how the suspect dams looked prior to the rebuilding recently completed.

Earthen dams are weakened by woody vegetation and the erosion such plants cause over time (see download from FEMA).  It was imperative that the destabilized dams at DelCarte were rebuilt before they failed.
The satellite images below show how the dams looked in 2003 compared to how they looked in 2014 after being rebuilt.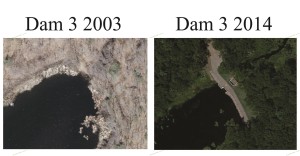 The new dams are substantial and seem designed to last a long time.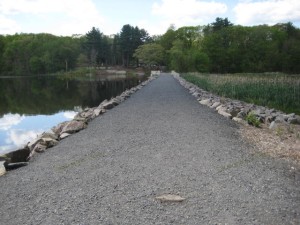 Gone are the trees and woody growth that were imperiling the old structures.  Each dam has a spillway that controls the water level of the respective ponds.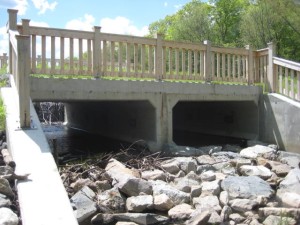 Photos and videos show what awaits you at DelCarte
Take a few minutes to look at the photos below and the videos in the gallery above to get a good idea of what DelCarte has to offer.  This is a superb public resource that deserves to no longer be a "hidden jewel" in Franklin, Massachusetts . . . it's a wonderful opportunity for everyone who appreciates nature and the outdoors to get outside and have fun!
DelCarte is just part of the extensive recreational resources available in Franklin, MA.  Graced with superior schools, plentiful shopping, a wonderful housing stock and easy commuter access to Rte 128 and Greater Boston, Franklin has received many national and regional awards as a great place to live!
Copyright ©2014 02038.com