Have a Franklin, MA library card? If you do, you now have free access to thousands of movies, television shows, music files and audiobooks on your computer, tablet or smartphone. Thanks to the Franklin Public Library and Hoopla Digital, library patrons can download or stream digital content from many top flight film studios, record companies, television producers and book publishers – free!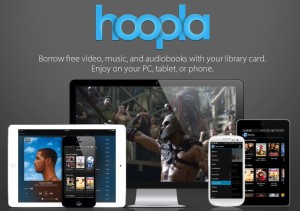 Note that there are no eBooks on Hoopla.  Here's a link to a review of the Hoopla Digital service on ZDNet.  Quoting from ZDNet:
"Hoopla has pulled off a stunning achievement, it has managed to negotiate the right for local libraries to lend digital versions of Hollywood movies and music as if they were physical artifacts on their shelves — and library members can view them on Hoopla's smart phone and tablet apps."
Easy access, no wait lists, no late fees
Hoopla's open ended license means the Franklin Library offers an unlimited number of copies of every title available on Hoopla.  Unlike the eBook service Overdrive (also offered by the Library), you can always get what you want on Hoopla, when you want it.  There are no "holds", no waiting lists for popular titles!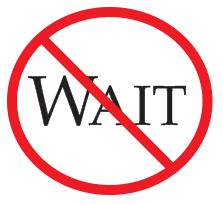 Borrowed items return themselves to the library on the due date. No late fees!  If you are not finished by the time your title is returned, just borrow it again and you can pick up right where you left off – the system employs automatic bookmarking.  Currently, Franklin Library patrons have a 5 item limit per month on Hoopla.  This limit may be raised in coming months.
Franklin Library an early adapter
Franklin is leading the way locally in terms of offering Hoopla.  Not very many libraries in the Commonwealth have signed-up for Hoopla yet.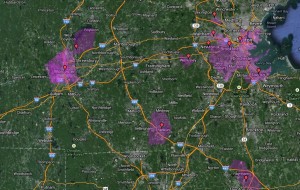 The map shows the libraries in eastern Mass that offer Hoopla.  It's good to see that Franklin is participating in this cutting edge service!
How to access content on Hoopla
It's very easy to use Hoopla; that is one of the great strengths of the system.  Here's how patrons of the Franklin, MA public library can sign up to use Hoopla.  (The screen shots below are ugly; Hoopla's web site uses an unfortunate black background that is a bit disconcerting.  This makes reading the sign-up instructions more difficult than if Hoopla used a white background –so much for web design best practices!)
1. Go to the Hoopla sign up page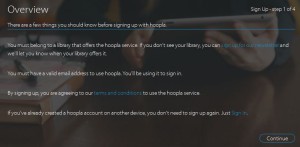 2. Select the Franklin Public Library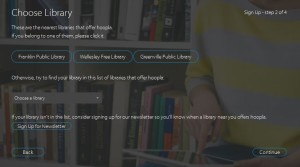 3. Insert your Franklin, MA library card number
4. Enter your email address and create a password (think up a unique password, don't use your email's password)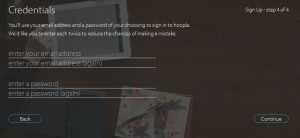 And now you have a Hoopla account!
Browse movies
Here's what you see with the movies section of Hoopla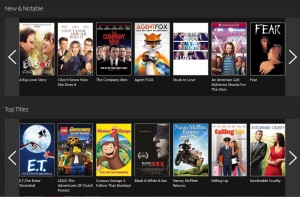 You can borrow movies for three days.
A nice feature for new users is the "demo" movie section.  This provides short video content to test your device's ability to display Hoopla's videos without using one of your 5 monthly title limits.
You might need to add a video viewer plug-in to your computer.  The download link is right on the Hoopla movie page and is an easy process.  I added the plug-in to my laptop with no problems.
Lots of TV shows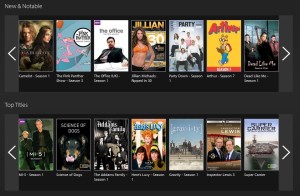 Television content is plentiful on Hoopla.  (The TV offerings appear to be more robust than what is in Hoopla's movie section.)  There are TV dramas, sit-coms, documentaries, cooking shows, children's programming, and complete seasons of TV's most popular content.
Music and audiobooks
You'll also find lots of music and audiobooks on Hoopla.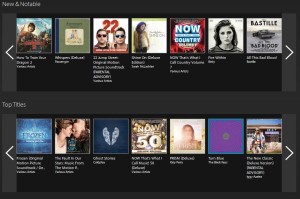 Music albums may be borrowed for up to 7 days.  You can keep audiobooks for 21 days.  Hoopla can be set up on your mobile device as well.  That way, you can listen to your music and audiobooks on the go!
Why Hoopla instead of physical discs?
The Franklin Public Library does still offer videos, music and audiobooks on physical discs.  There typically is only one copy of each such file available for checkout.  The discs can get scratched and lost over time.  Hoopla makes unlimited copies of each file available.  And nothing gets lost or damaged by use.  It's a superior way for libraries to offer digital content!
 Learn about the Franklin Public Library
Did you know the the Franklin Public Library was the first public library in the US?  It's true!  You can learn about the Franklin Library here.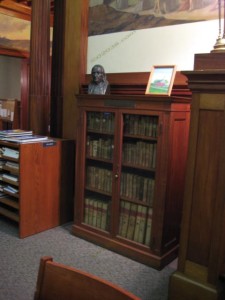 Ben Franklin's original gift of books that started the library still exists and is on display in the library's main reading room.
The library has a beautiful interior.  It's wonderful that the Franklin Public Library can offer modern online services yet retain its historic ambiance!
Copyright ©2014 02038.com