As astonishing as it may sound, Greater Boston home values have recouped most of their Great Recession losses!  Since January 2012, metro Boston single family home prices have rocketed higher as tracked by the seasonally adjusted Case-Shiller Home Price Index for Boston.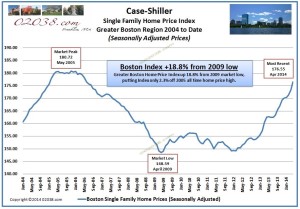 The seasonally adjusted Index now stands nearly 19% higher than it was in April 2009.  That's a paltry 2.3% below the Index high set back in May 2005!  Here's how the amazing comeback took place . . .
Astonishing recovery took root in 2012
Conditions were dire as Massachusetts home prices hit their lows in 2009.  Even as the US stock market staged a strong recovery in 2010 and 2011, area home values remained under pressure as the chart above shows.  After the now long-forgotten Federal Home Buyer Tax Credits expired in early 2011, Bay State home values slumped back downwards.  Market commentators bemoaned the "second dip".
It was almost as if a switch was flipped in January 2012.  The improvement began with a noticeable pickup in home  sales volume.  As the inventory of homes for sale shrank, some observers warned of higher home prices ahead.
Home prices powered ahead in 2013
The predicted ascent in MA home prices became undeniable as 2013 progressed.  Here's how the price rise on the Index looks since January 2013: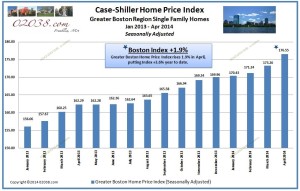 By the spring 2013 home selling season, real estate in the eastern half of Massachusetts was hot!  There were bidding wars galore in Greater Boston and home buyers fled the inner suburbs in search of more affordable homes.   The pervasive lack of inventory moved its way out to the I-495 corridor by early 2014, with conditions in the Town of Franklin being especially tight.
The future looks bright – and home ownership protects you

For those of you who bought real estate when home prices were down, you should feel very good!  You bravely bought when others were selling and you command the financial benefits today.  If you are in the market to buy a home now, be happy that the Massachusetts economy is growing and the real estate market is vibrant! That's your best assurance of "Making it in Massachusetts!"  Keep your eyes on your future and achieving your life goals, including owning your home!
In the long run, home ownership is a proven financial winner.  After all, the Case-Shiller Index sets Greater Boston home prices as of January 2000 at "100".  Today the Index stands at 176.  In January 1991 the Index was at 65! That massive rise from 65 to 176 in nearly 25 years is solid proof that, over the decades, owning real assets like housing provides profound, life enhancing protection against the corrosive effects of inflation.  Buy your home in Massachusetts now and don't look back!
Copyright ©2014 02038.com