Why Forge Hill Condos are so special
The Forge Hill Condominiums consist of 64 townhouse condos set on 16 acres in Franklin, MA. The townhome community commands a strategic location just a short drive to the Forge Park commuter rail station, Exit 17 on I-495 and top-quality shopping and services. Forge Hill residents enjoy rare recreational opportunities.  There are walking trails and views of peaceful woods provided by the adjacent Franklin State Forest.  The townhomes are seconds away from a beautiful, thriving YMCA.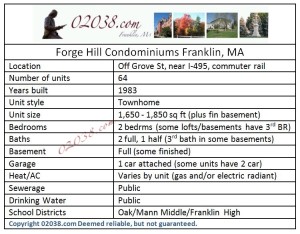 Layout of Forge Hill homes
Forge Hill units have two stories and full basements.  Vaulted ceiling living rooms overlooked by second floor lofts make for dramatic floor plans.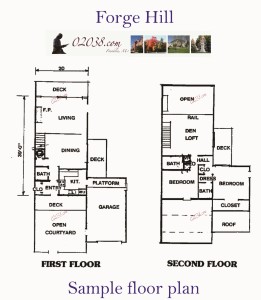 Square footage ranges from 1,600 square feet to 1,850 square feet, exclusive of finished basement living area.  Each home has two bedrooms and two and one-half baths.  The second floor lofts can be used as offices or sitting areas. Some units have 3rd bedrooms.
Video of condo community
This video gives you a good introduction to Forge Hill:
More details about Forge Hill
One distinctive feature of the homes at Forge Hill is the enclosed front courtyards.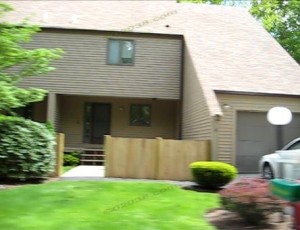 The courtyards create enhanced privacy for each unit.
One car attached garages predominate.  There are a number of Forge Hill townhomes with two car garages.
Each unit at Forge Hill has multiple decks.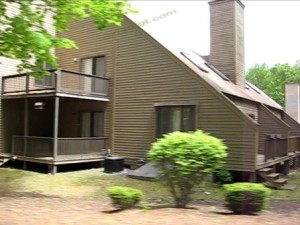 Many Forge Hill homes have second story decks off the master bedrooms in addition to first floor decks.
Greenery and pleasant woods
Being located next to the Franklin State Forest means Forge Hill affords lots of views of greenery and woods.
It's a very private, tranquil setting!  Contact Warren Reynolds for answers to all your questions about the Forge Hill Condominiums in Franklin, Massachusetts.
Copyright ©2014 02038.com