Forge Hill Condos enjoy easy access to Y, walking trails
There are valuable recreational opportunities available to residents of the Forge Hill Condominiums that most other condo communities can't begin to match. It all comes down to location, and Forge Hill occupies an advantageous setting in Franklin, MA!
Not only are I-495, a commuter rail station and great shopping and services near by, the townhomes abut a state forest with walking trails and a beautiful YMCA in just seconds away.
Beautiful YMCA seconds away
The Hockomock YMCA is a wonderful community resource that is literally seconds away, just up the street from the Forge Hill Condos Forge Hill.
YMCA members can partake in a wide range of classes and activities including aquatics, dance, gymnastics, health & wellness and sports.  For the kids, there's daycare and after school services, arts and enrichment programs and a summer camp.  The Y even offers integration services for those with special needs.
Forge Hill abuts Franklin State Forest
Forge Hill residents can take advantage the Franklin State Forest which borders the townhome community.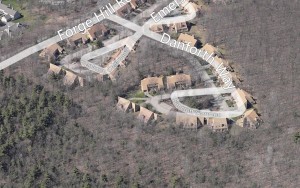 Set on over 800 acres of woods, the Franklin State Forest forms a beautiful backdrop to the condos.  Many units enjoy peaceful views of the protected woods.
The State Forest has a number of walking paths and bike trails.  There is a walking path immediately behind the Forge Hill condos.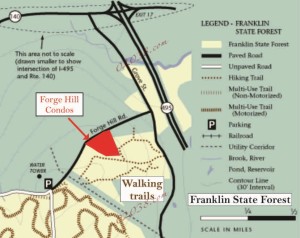 It winds through pleasant pine forest and provides charming views of old stone walls.  This path connects to a network of trails in the State Forest, allowing one to take more far ranging hikes. Quick and easy access to nature and walking trails is a valuable perk available to Forge Hill residents!
Warren Reynolds will help you get better acquainted with the Forge Hill community and the Town of Franklin, MA; contact Warren today!
Copyright ©2014 02038.com