The seasonally adjusted Case-Shiller Home Price Index for Boston has declined for the third month in a row. The Index tracks single family home sale prices in the metro Boston area.  It is seasonally adjusted to provide the best read on the Greater Boston real estate market possible.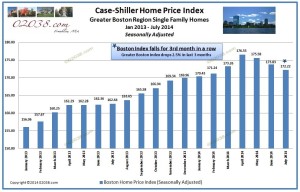 The 3 month decline in the Boston Index follows a straight run of 9 monthly increases which began back in August of 2013.
Greater Boston home prices peaked April 2014
The Boston Index's most recent high of  175.55 was set last April.  At 172.22, the Boston Index is down 2.5% since then.  (The Boston Index is published monthly with a 2 month delay, so July 2014 is the most recent month reported on by the Boston Index.)
"Blips" versus trends
It is way too early to call the recent downdraft in regional home prices a firm trend.  At three months, the decline could still be termed a mere "blip" on the Boston home price radar screen.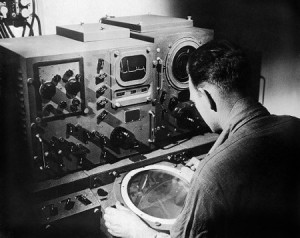 However, if the Boston Index was to show continued weakness for several more months, then we would have a meaningful trend demanding attention. But even at this point, three months of price declines in Greater Boston is a warning sign to home sellers and perhaps a beacon of hope to beleaguered MA home buyers.
Recent Boston home price decline mirrors softening in the local market
Home prices peaked in Greater Boston last April.  Look at the graph below to see how that price top coincided with a pronounced shift in the Franklin market towards more home inventory.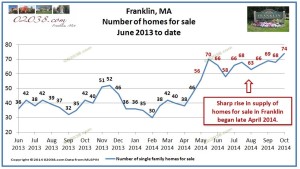 Beginning in mid-April, the inventory of homes for sale in Franklin, MA rose sharply.  What had been an extremely low inventory environment in Franklin, Massachusetts shifted to a market in which buyers had more and more homes from which to choose.  Franklin home sellers suddenly lost some of their pricing power.  Some homes this summer and fall have sold quickly and at or over asking price.  But other Franklin listings encountered resistance and have had to engage in price adjustments in order to eventually find buyers.
New high school in Franklin a major plus
The construction of the beautiful new Franklin High School has been a huge boost to the local real estate market.  The new school has been a magnet drawing home buyers to the Town of Franklin for the last 2 years.  This new facility will continue to buoy Franklin real estate for years to come.  However, trends in the greater market and the Massachusetts economy obviously will trump the beneficial impacts of the High School on Franklin housing.  So Franklin home sellers would be best advised to consult with a skilled, local real estate agent to set the proper asking price for their home and implement a marketing plan that will appeal to the broadest pool of likely buyers as possible.