As we near the end of 2014, there's a lot of angst being expressed in the media about the real estate market in Massachusetts.  The Boston Globe on Sunday published interviews with depressed, frustrated industry observers who described current market conditions as "schizophrenic", "weird", and "baffling".  After an outrageously strong spring home selling season, the Massachusetts market in 2014 certainly has felt surprisingly sluggish and slow.  Listings that attempted to "push the asking price envelope" in the second half of the year generally have met stiff resistance. To some unhappy home sellers, it appears that the bottom has fallen out of Massachusetts home sales.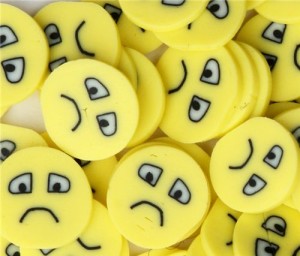 However, as you will see set forth in this post, the year to date median home sale price in Massachusetts is up over last year, while 2o14's year to date home sales volume is only slightly below 2013's very healthy levels.  So why are so many people complaining about the market at the end of 2014?  The difficulties encountered in 2014 appear rooted in a jarring clash between overly inflated expectations after a hyper spring market and what has become the new market reality of a greater supply of homes for sale.  In essence, the Massachusetts real estate market in the second half of 2014 caught a lot of market players flatfooted by unexpectedly regaining the competitive balance between buyer and seller it so sorely lacked earlier in the year.  And ultimately that is very good news, not just for home buyers, but for all of Massachusetts real estate as we head into 2015!
Year to date stats look fine
If you look at some key year to date statistics, the 2014 Massachusetts housing market appears not all that bad.  Here's how 2014 stacks up at the start of the holiday season compared to previous years: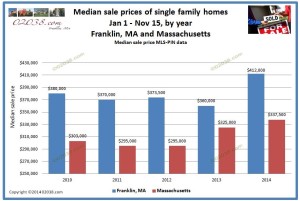 The year to date median sale price of single family homes in the Commonwealth on MLS-PIN is the highest it has been in years.  The median sale price of single family homes in Franklin, MA is markedly higher than the year before.
While year to date home sales volume is down 4% in Massachusetts compared to year ago levels, the modest decline in itself is nothing alarming.  After all, 2013 was the best year for sales production in Massachusetts in quite some time!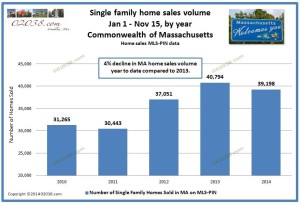 Note also that 2014's year to date home sales totals are ahead of each of the 3 years prior to 2013.  So overall Massachusetts home sales volume has NOT fallen off a cliff this year.
In Franklin, MA, the number of single family homes sold year to date on MLS-PIN is a very healthy 16% higher than 2013.
Slower sales activity in the second half of the year?  Not really!

If you analyze monthly home sales activity in Massachusetts, you will see some tailing off of sales after the very active spring.  But home sales volume typically does lag during the vacation-heavy summer months, and sales volume this September and October in the Bay State has been roughly equivalent with sales the previous year.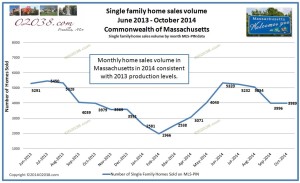 3,996 single family homes were sold in September 2014 on MLS-PIN.  That's only slightly less than the 4,039 homes that sold in September 2013.  In October 2014, 3,989 homes sold on the MLS, exceeding the 3,979 sales recorded the previous October.
It's the same story in Franklin, MA.  Despite a sharp falloff in sales during last winter's brutally cold winter, 2014 posted a strong sales recovery in the spring market.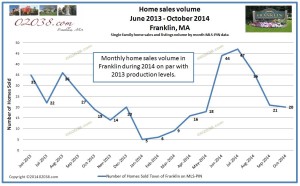 And September and October of 2014 saw sales totals in line with those of September and October of 2013.
So home sales volume really has not been a problem in 2014.  The "problem" with 2014 appears to be one of unmet expectations of a continuing boom after a stellar spring, rather than a pronounced sag in market activity.
An overheated, unbalanced market created unrealistic expectations
From early 2013 into the spring of 2014, the eastern Massachusetts market was characterized by a low supply of homes for sale.  Inventory levels became absurdly tight in many Greater Boston communities as 2014 got underway.  The abnormally cold and snowy weather last winter kept homes off the market.  The restricted inventory created a market sentiment which by the spring of 2014 had become almost manic.  With essentially nothing to buy, panicky purchasers flooded open houses at what new listings there were.  Bidding wars became commonplace, boosting sale prices and making home sellers feel like they could name their own price.  Home sellers' (and many listing agents') expectations last summer were sky high after such an exceedingly strong spring market.
Surge of new listings restores competition and market balance
Then, seemingly out of the blue last summer, it felt like a switch was turned.  More and more homes began hitting the market . . . and the buying frenzy lost momentum. Homes started sitting unsold for weeks and even months.  Home sellers who had priced high in expectation that the frenzy would continue had to cut their asking prices, repeatedly in some instances, to produce a sale.  Agents and sellers alike were left scratching their heads and asking 'What happened to the market?'.
What happened mid 2014 was the natural response to a grossly out of balance market lacking inventory: simply put, increasing numbers of home sellers put their homes on the market!  Starting in April, there was an initial surge in home listings.  By mid-May, the listing surge had continued to the point that there were homes for sale that buyers could actually buy in a calm and rational way – no more having to make a rushed decision the first day of a listing!  With more homes from which to choose, buyers started becoming more selective. By the fall of 2014, the shoe was on the other foot and homes had to compete for buyers instead of buyers competing frantically for homes.
October stats tell the story
Here's how Massachusetts market stats for October of this year compare to October 2013:

As previously noted, October home sales volume in 2014 marginally exceeded home sales volume in 2013.  Nothing bad about that!  But the number of homes for sale in MA this October was nearly 9% higher than October 2013. It's that extra inventory that is making the market feel sluggish and slow!
The situation in Franklin, Massachusetts is even more clearly expressed in the October stats:

Home sales volume this October was up 5% over October 2013 – great news!  But there was a whopping 85% increase in housing inventory in Franklin.  That's a lot more listings competing for buyers!
Short end to a long post
This has been an unusually long post with a lot of numbers and statistics.  Thank you for making it so far and, as a reward, I'll be mercifully quick with the end.  The current real estate market is not bad, it's just intolerant of overpricing.  The good news is that there is now an ample supply of homes for sale.  Buyers now have choice whereas last spring there was almost nothing for sale.  Today's market is a lot healthier and more balanced than last spring's.  And that sets the table for some great home selling in 2015!
Copyright ©2014 02038.com