The new year is about to get under way on a high note of financial hope and optimism. Very encouraging economic trends that developed in the second half of 2014 may be setting the stage for a robust real estate market in Massachusetts during 2015.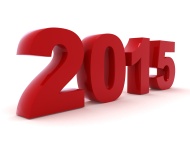 Here's the case for an upbeat outlook for MA real estate in 2015:
♦ National economy growing rapidly
With the recent release of third quarter GDP figures showing torrid 5% economic growth on an annual basis, many economists feel the national economy is finally expanding broadly enough for sustained job creation.  More jobs mean more household creation.  And more households mean more home sales ahead!
♦ Falling oil prices spur growth

Oil prices plunged in second half of 2014, lowering gasoline prices and putting a lot of extra spending money in the pockets of US consumers.  This should further bolster economic growth in 2015, despite causing pain in oil producing regions of the US.
♦ Mortgage rates remain low – for a while longer

The persistence of historically low interest rates was the surprise financial development of 2014.   Low mortgage rates support real estate prices by making it easier for more buyers to purchase housing.  Experts have been forecasting a rise in interest rates for years now, and so far have been proven wrong year after year.  However, this time around the odds seem stacked in favor of the Federal Reserve taking action to raise rates by midyear.  While most economists believe any rate increases in 2015 will be modest, the bias moving forward does seem to be on the upside.
Good times for economy mean good times for real estate?
Massachusetts real estate experienced an uneven performance in 2014.  The first half of the year was downright fevered.  Conditions cooled in the last 6 months of 2014 as an increased supply of homes restored balance to the market.
The second half of 2014 witnessed the massive break in oil prices and the marked strengthening of the US economy described above in this post.  These factors, combined with continued low mortgage rates, may make for a stronger MA housing market in the first half of the year.
The greatest risk  facing the market in 2015 would seem to be a larger (and/or earlier) than expected increase in interest rates.  So if you are on the fence about buying or selling real estate, why take a chance with rising rates?  Take advantage of today's low rates and buy or sell that home in 2015!  Happy New Year!
Copyright ©2014 02038.com