The stage may be set for strong home sales and rising property prices in Massachusetts during 2015. The Bay State's housing market showed renewed vigor in the fall of 2014 after a surprise mid-year hiatus and that strength should carry over into the new year. Some highly encouraging developments in the national economy in the latter half of 2014 should help local real estate power ahead in 2015. This may prove to be an exceptionally good year for both home sellers and buyers in the Commonwealth!
Case-Shiller Boston Price Index tells the story of 2014
The seasonally adjusted Case-Shiller Home Price Index for Greater Boston shows you in a nutshell what took place in Massachusetts real estate during 2014 and why the 2015 market may be ripe for a further upswing.
The first four months of the 2014 witnessed strong home price gains amid white hot market conditions. There was a pronounced lack of supply of homes for sale throughout most of Greater Boston and the I-495 loop which spurred widespread buyer bidding wars across the region. The market began to regain balance in the 2nd quarter as new inventory entered the market during the spring home selling season. By summer, the Boston Price Index was in a mid-year slump as buyer demand failed to absorb all the new listings. The increased supply of homes for sale in the latter half of the year was great news for buyers, but caused angst among listing agents and home sellers who were caught off guard by the market shift.
Fantastic economic news to the rescue!
The Case-Shiller Greater Boston Index showed renewed life in September and October (there is a 2 month reporting lag in the Index). The price rebound coincides with the advent of some highly bullish economic trends for the United States: the national economy kicked into overdrive and world oil prices moved dramatically lower. This suggests that job growth and consumer spending will accelerate in 2015, bolstering local housing! With the Federal Reserve likely to keep interest rates near historic lows through mid-year, the outlook appears positive for the 2015 real estate market.
2014 by the numbers
Looking at the median sales price of single family homes sold in Massachusetts on MLSPIN since 2010 shows a market building momentum.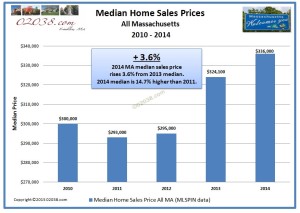 The median single family home sales price in MA for 2014 was up 3.6% over the prior year. 2013 had seen a healthy price gain, so 2014's performance on top of that puts Massachusetts home prices 14.7% ahead of where they were back in 2011.
MA home sales volume slips
Single family home sales volume across Massachusetts lagged a bit in 2014, dropping 2.6% from 2013's total.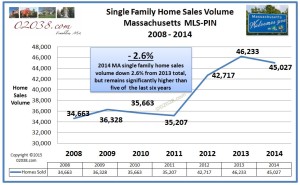 However, 2013 saw the highest single family home sales numbers in the Bay State in years. 2014's home sales volume exceeds annual production of five of the last six years. So 2014 was a very good year overall!
2014 in the Town of Franklin, MA
2014 was a very positive year for real estate in the Town of Franklin, MA as the median single family home sales price rose briskly.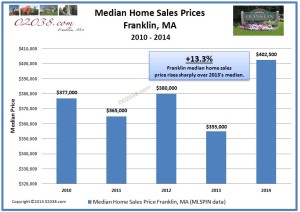 The median sales price of Franklin homes sold in 2014 on MLSPIN was $402,500, 13.3% higher than 2013's median. This was the first time Franklin's median exceeded $400,000 in several years
High School behind the strong price gains?
Franklin opened a beautiful new high school in 2014. The advent of the $105 million facility was the dominant news story in town for the year and and the new school seemed to boost buyer interest in the Franklin community. Franklin High ranks very high in test scores; below is a video gallery on the new facility at Franklin High.
Exterior
Exterior views of High School
Technology
Technology abounds at Franklin High
Science labs
State-of-the-art science labs
Classrooms
Tech laden classrooms
Lecture Hall
Rivals most college facilites
Media Center
High tech Media Center
Auditorium
Mammoth auditorium
Gym
Stupendous facility with indoor track
Dining hall
The student dining hall is bright and spacious.
Weight training room
Nice place to lift weights!
Look for home buyers to continue to zero-in on Franklin, MA due to that stupendous new school!
Sales volume down in Franklin
2014 sales volume fell 6.3% in Franklin compared to the previous year.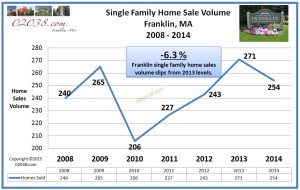 But 2013 saw the highest number of Franklin single family homes to change hands on MLSPIN since before the Great Recession. Except for 2013's total sales, 2014 saw the greatest number of homes sold in Franklin since 2009.
Selling in 2015?
Interest rates may be on the rise by midyear, so it may pay to make your move earlier rather than later in 2015.
If you're thinking of selling your home, some simple steps you can take before you put your home on the market can make a big difference in how well you do. Contact Warren to get expert advice on your best home-selling strategies. To find out what your property is really worth, get your free, no-obligation Home Value Report from Warren!
Home buyers: consider Franklin, MA
If you are in the market for a home in Massachusetts, Franklin is a great choice!
Franklin has wonderful schools, superb recreational resources, many fine neighborhoods and plentiful shopping in town and near by. Commuting to work from Franklin is made a whole lot easier by Franklin's two commuter rail stations. Contact Warren for help buying a home in Franklin, MA!
Copyright ©2015 02038.com