2014 was a great year sales of ranch homes in Franklin, Massachusetts.  The median sales price of Franklin ranches rocketed 21% over 2013's median price!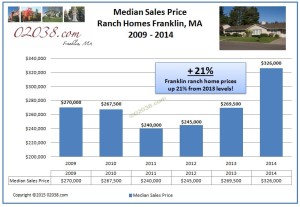 The median sales price for ranches in Franklin, MA is now up 35.8% over the price low set back in 2011 – wonderful news for ranch owners in Franklin!
 Sales volume down but only compared to sales bulge of 2013
The number of Franklin ranches that changed hands in 2014 fell compared to 2013.
But 2013 saw especially heavy sales volume of Franklin ranches.  2014 sale totals exceeded annual sales volume of ranches in Franklin for three of the last four years.
2014 ranch sales by price bracket
Here's how ranch sales in Franklin break down by price bracket: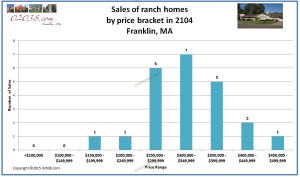 As you can see in the chart above, the meat of the ranch market in Franklin is in the $200,000 to $399,999 price range.
Download the 2014 Franklin ranch market report
Follow the link to download the 2014 Franklin ranch market report.  You'll see MLS sales of ranch homes in Franklin during 2014 with lots of photos and facts! Or you can tap (or click) the image below to access the report.
Outlook for ranch homes in 2015
If you own a ranch in Franklin, MA, 2015 would be a smart time to sell!  Demographics are supporting ranch sales.  The massive Baby Boom generation is increasingly turning to one level living options.  The prevalence of divorce is creating demand by the newly single for smaller, more manageable housing.
On top of that, several economic developments in 2014 have set the stage for what could be a very active housing market in Massachusetts in the upcoming year.
Interest rates may be on the rise by midyear, so it may pay to make your move earlier rather than later in 2015.
If you're thinking of selling your home, some simple steps you can take before you put your home on the market can make a big difference in how well you do.  Contact Warren to get expert advice on your best home-selling strategies.  To find out what your property is really worth, get your free, no-obligation Home Value Report from Warren!
About Franklin, MA
If you are in the market for a home in Massachusetts, Franklin is a solid contender!  It has modern schools, superb recreational resources, many fine neighborhoods and plentiful shopping in town and near by.  Commuting to work from Franklin is made a whole lot easier by Franklin's two commuter rail stations.  Contact Warren for help buying a home in Franklin, MA!
Copyright ©2015 02038.com