It's safe to say the slump Greater Boston home prices encountered last summer is over!  The seasonally adjusted Case-Shiller Home Price Index for Greater Boston rose 0.75% in November 2014, the most recent month covered by the Index.  This puts the Boston Index up 2.3% from its low last August and only down 0.36% from the high it reached in April 2014.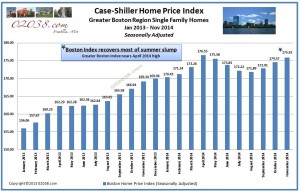 Massachusetts home prices to rise in 2015?
The supply of homes for sale in Massachusetts has been extremely limited so far in 2015.  A general lack of available homes in the Bay State combined with favorable trends in the national economy is producing conditions that could result in sharp increases in home prices this spring.  If you're thinking of selling real estate in Massachusetts, 2015 looks to be the ideal time!  Home buyers better to ready to act quickly when a good home hits the market.
Fasten your seat belts, 2015 could see updrafts in the MA housing market –  contact Warren with any questions about buying or selling a home this year!
Copyright ©2015 02038.com