2014 was an good year for townhome sales at Chestnut Ridge in Franklin, MA! Chestnut Ridge benefited from rising prices and fewer days on the market for the second year in a row.  The average sales price of units at Chestnut Ridge rose 3.5% compared to 2013.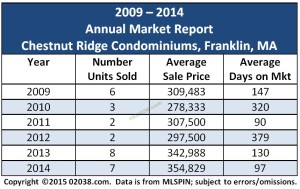 At $354,829, Chestnut Ridge's average sales price is currently 27% ahead of where it was in 2010 – quite a comeback!   The time it took secure a buyer (days on market) fell in by a third in 2014 to a very respectable 97 days.
Why 2015 looks promising at Chestnut Ridge condos
The last two years at Chestnut Ridge witnessed rising prices amid a sharp increase in the number of units that changed hands.  The spike in sales volume means that the increase in average sales price is durable and a valid indicator the direction of the market for townhomes at Chestnut Ridge in 2015.
In addition, the outlook for real estate in general is upbeat at the start of the new year.  The national economy is experiencing strong growth. Energy prices are falling, led by a 50% decline in the price of oil in 2014.  And interest rates look to remain near historic lows, at least until midyear.  These beneficial developments should cause the Massachusetts real estate market to do well in 2015.  We may see another year of price gains at Chestnut Ridge in Franklin, Massachusetts!  You can learn more about this prime condominium community in Franklin later on in this post.
Download the 2014 Chestnut Ridge market report
Follow the link to download the Chestnut Ridge market report for 2014.  It shows all the year's sales at Chestnut Ridge and has lots of interior photos and facts! Or you can tap (or click) the image below to access the report.
Discover the Chestnut Ridge Condominiums
Chestnut Ridge is a prime condominium community in Franklin, Massachusetts.  Anyone of any age can live in these attractive townhomes! Built in two phases: Phase I was built between 1986 and 1990.  Most of the townhomes in Phase II were constructed between 1995 and 2001. The condo community has a great location in Franklin, MA.  Chestnut Ridge has beautiful grounds and amenities, including an in ground pool and tennis courts.
The videos below will show you what Chestnut Ridge has to offer:
Phase I of Chestnut Ridge
Shows Phase I of the Chestnut Ridge condos in Franklin, MA
Phase II of the Chestnut Ridge
Shows Phase II of the Chestnut Ridge condos in Franklin, MA
Amenities and grounds
Shows the amenities and grounds of the Chestnut Ridge condos in Franklin, MA
Shopping & services close by
Shows the great shopping and services close to the Chestnut Ridge condos in Franklin, MA
Buying or selling in 2015?
Interest rates may be on the rise by midyear, so it may pay to make your move earlier rather than later in 2015.
If you're thinking of selling your condo, some simple steps you can take before you put your home on the market can make a big difference in how well you do.  Contact Warren to get expert advice on your best home-selling strategies.  To find out what your property is really worth, get your free, no-obligation Home Value Report from Warren!
If you are in the market for a home in Massachusetts, Franklin is a great choice!  It has wonderful schools, superb recreational resources, many fine neighborhoods and plentiful shopping in town and near by.  Commuting to work from Franklin is made a whole lot easier by Franklin's two commuter rail stations.  Contact Warren for help buying a home in Franklin, MA!
Copyright ©2015 02038.com