2014 saw solid gains in home values at the Spruce Pond Village condominiums in Franklin, MA.   The average sales price at Spruce Pond rose 7.4% in 2014 over the previous year.  The gain was the second year in a row that average sales prices increased at Spruce Pond.  At $307,843, the average sales price at Spruce Pond is now higher than it was back in 2009!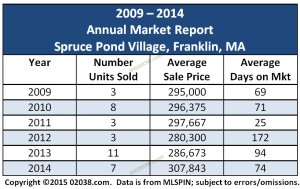 Prices at Spruce Pond condos may rise further in  2015
The rising prices at Spruce Pond in 2014 came against a backdrop of an accelerating national economy, falling oil prices and extremely low mortgage rates.  If these positive trends continue in 2015, the Massachusetts real estate market should strengthen and demand for townhomes at Spruce Pond Village should intensify.  2015 may be a great year to buy at Spruce Pond!  You can learn more about this popular condominium community in Franklin further on in this post.
Download the complete 2014  Spruce Pond Village market report
Follow the link to download the complete 2014 Spruce Pond Village market report.  It shows all sales at Spruce Pond in Franklin, Massachusetts for 2014 with lots of photos and facts! Or you can tap (or click) the image below to access the report.
About Spruce Pond Village
For decades, Spruce Pond Village has been one of Franklin, Massachusetts' preferred townhome communities. Homes at Spruce Pond are open to buyers of any age and offer varied floor plans with garages and basements.  Many units enjoy pretty pond views.  Spruce Pond commands a wonderful commuter-friendly location near shopping and medical facilities.
Here is a video gallery that will help you learn more about Spruce Pond Village:
Grounds and common areas
Shows the grounds and common areas of the Stone Ridge condos in Franklin, MA
Exterior views of condos
Shows the exteriors of the homes of the Stone Ridge condos in Franklin, MA
Shopping and services near by
Shows the shopping and services near the Stone Ridge condos in Franklin, MA
Short drive to commuter rail
Shows the easy access to the Forge Park Commuter Rail Station from the Stone Ridge condos in Franklin, MA
Modern YMCA near by
Shows the beautiful YMCA near the Stone Ridge condos in Franklin, MA
Buying or selling in 2015?
Interest rates may be on the rise by midyear, so it may pay to make your move earlier rather than later in 2015.
If you're thinking of selling your condo, some simple steps you can take before you put your home on the market can make a big difference in how well you do.  Contact Warren to get expert advice on your best home-selling strategies.  To find out what your property is really worth, get your free, no-obligation Home Value Report from Warren!
If you are in the market for a home in Massachusetts, Franklin is a great choice!  It has wonderful schools, superb recreational resources, many fine neighborhoods and plentiful shopping in town and near by.  Commuting to work from Franklin is made a whole lot easier by Franklin's two commuter rail stations.  Contact Warren for help buying a home in Franklin, MA!
Copyright ©2015 02038.com