"Woefully inadequate" appears to be the best way to describe the widespread lack of supply of homes for sale in Massachusetts so far in 2015.  As February nears, Bay State home buyers are confronting what looks to be a repeat of the exceedingly tight inventory of homes that dogged the MA real estate market early last year.  If upcoming weeks see housing supplies remain as limited as they are currently, the stage will be set for an outbreak of bidding wars across Greater Boston and the I-495 region as the 2015 spring home selling season gets underway a couple of months from now.
Lots of buyer interest, "nothing" to buy
I personally am fielding lots of phones from frustrated buyers asking why there is so little for sale.  There's "nothing to buy in downtown Boston" according to an article on the Boston condo market in the current edition of the Massachusetts real estate trade publication Banker and Tradesman.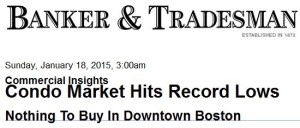 (The full article is available on a subscription-only basis but the above headline gives you the idea.)
It looks similarly dire for single family homes along the I-495 belt between I-95 and the Mass Pike: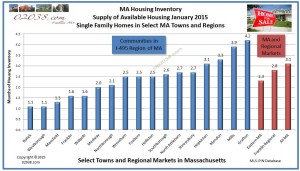 Between 1 and 3 months of supply is the common housing inventory level in most popular communities in the I-495 area.  Natick and Westborough come in at the worst: only 1.1 months of inventory in those towns . . . that's extremely inadequate!  It's not much better in Franklin and Walpole (1.6 months each) or in Wrentham, Foxborough and Holliston (each of which sport a scant 2.5 months of supply).  You have to go out west to Grafton to find single family housing inventory in excess of 4 months.
For all of the Commonwealth, there's just over a 3 month supply of houses. That's simply not enough for buyers to have a healthy choice of homes!
Supply of homes by price bracket in Franklin, MA
Here's how today's constricted supply of homes in Franklin, Massachusetts is distributed across various price brackets: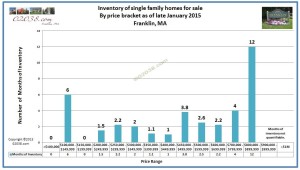 Only in the very low ($100K – 149.9K) and very high ($800K – $899.9K) price brackets are there enough homes for sale to reasonably satisfy buyer demand.  There is a dearth of  choice in most other price ranges!
Great time to sell; buyers better act quickly when they find a good listing

Prospective home sellers take note: the lack of supply is positioning the 2015 spring housing market as a wonderful time to sell your home!  Contact Warren for a Home Value Report – it's free, no cost, no obligation!
On the other hand, home buyers should understand their lack of negotiating leverage with desirable homes in this inventory-light market.  Be ready to pay the asking price – and offer quickly – for homes in good locations that are in move-in condition.  You are likely to still be able to get discounts on older homes in need of updating and or homes in less advantageous settings.  But don't underestimate the degree of competition you'll likely face once the weather warms and more buyers enter the market.  Do your leg work now and try to get under agreement before the spring rush begins.  Make your offer as soon as you find a home that suits your needs . . . delay could cost you dearly in the low inventory market!
Copyright ©2015 02038.com