There was a slight 1.3% drop in the average sale price of condos at Highwood in Franklin, MA during the first half of 2015, compared to the same period a year ago. However, the price decline at Highwood appears to be more of a statistical fluke rather than an indication of an actual slump in Highwood condo values.
Prices up sharply at Highwood over last 3 years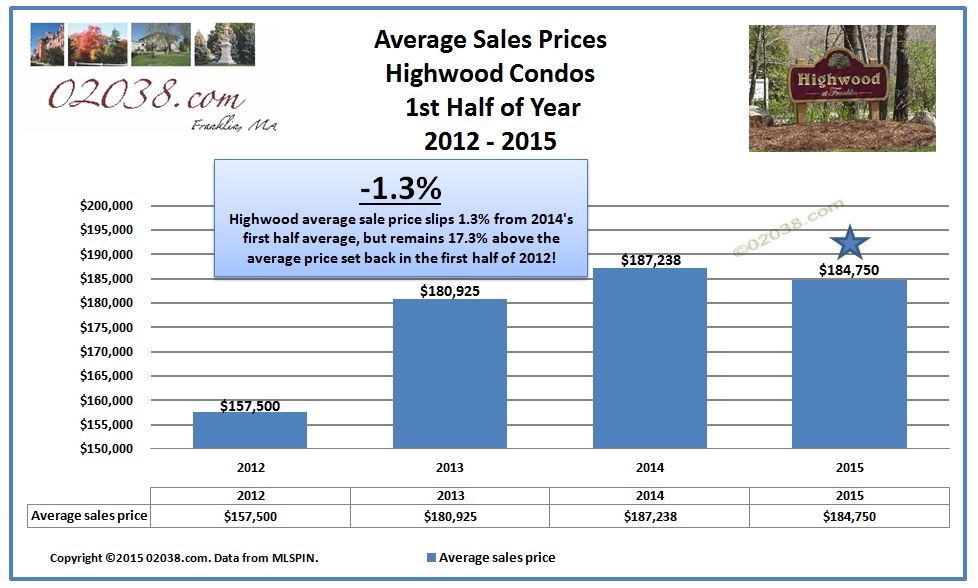 Despite the small drop in the average sale price at Highwood for the first half of 2015, unit values remain substantially above where they were just a few years ago.  Compared to the first half of 2012, the current average price at Highwood is up over 17%.  That's a reliable indicator of the direction of values at Highwood! (All data in this report derived from MLS-PIN.)
Mix of units changing hands behind the statistical decline
Here's how the first half sales stats for Highwood over the last several years look in a grid format: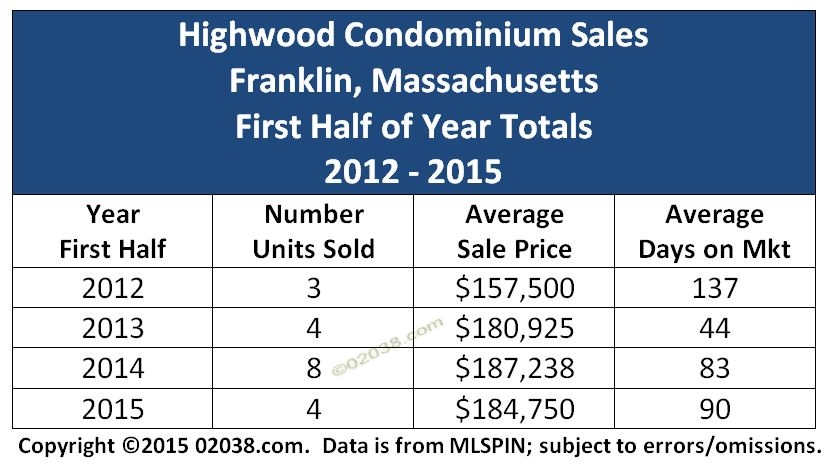 The first half of 2014 saw an unusually high number (eight) of Highwood units change hands.  Included in that grouping of sales was one large three bedroom townhome and two sought-after ranch units. These more expensive sales helped elevate the average sale price statistic for the first half of that year.
During the first six months of 2015, sales volume fell from the previous year's elevated level. Of the four first half 2015 sales, one was a small, vacant unit that sold at a steep discount to a cash buyer.  Because fewer sales were in that relatively small first half 2015 sample, the one low sale price helped pull the overall average sale price lower.  2015's first half price drop stems from a limitation of statistics: when you work with with a small sales sample, one outlier sales price can skew the average.
Highwood a prime condo community in Franklin, Massachusetts
The roughly 180 condominium units at Highwood in Franklin, Massachusetts were built in three phases. Each phase has a distinctively different appearance.
The condo community offers a mix of garden units and townhomes, with some intriguing ranch units. Two bedroom units predominate, but there are some three bedroom homes. Some of the townhomes have basements, many do not. The common grounds feature mature trees and landscaping set among a pleasantly rising terrain.
Advantageous location
Highwood enjoys an ideal location in Franklin with easy access to shopping, services and I-495.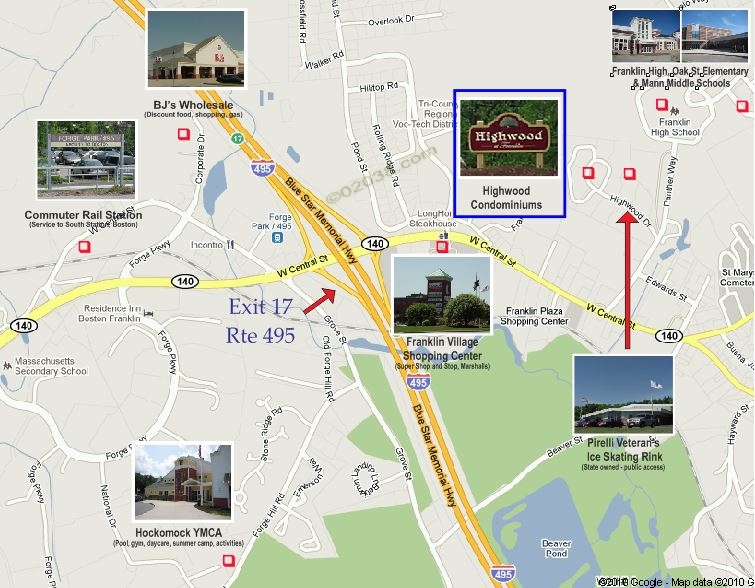 Franklin Village Shopping Center, one of the largest shopping venues in Franklin, is a short drive away from Highwood.  Even closer are a CVS Health, the new Franklin High School and a public ice rink.
The proximity of Highwood to the new Franklin High School is a wonderful plus for Highwood residents – and not just for those with teenage students!  The new high school cost over $100M and is stunningly beautiful.  (Take a video tour of the new high school in Franklin, MA by following the hotlink.)  The benefit of the new school to the over all Highwood community is in the upcoming installation of new ball fields and tennis courts. These will be within walking distance of Highwood!
Learn more about the Highwood condominiums in Franklin, MA.  If you have questions about the Highwood community or would like to buy or sell a home there, contact Warren Reynolds and he will take great care of you!
Copyright 02038.com