You're invited to enjoy a delicious array of the best cuisine creations from many of the area's top eateries and caterers at the upcoming "Taste of the Region" food extravaganza being held this Tuesday, October 27 from 6 PM – 9PM at the Tri-County Regional Vocational Technical High School in Franklin, MA.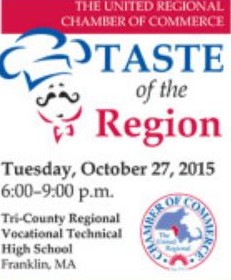 Sponsored by The United Regional Chamber of Commerce, this popular annual event is your chance to partake in all-you-can-eat samplings of appetizers, main courses and desert items and vote for the best foods and culinary displays. You are invited to support the Franklin Food Pantry by bringing a donation of a non-perishable food item.
Tickets are $10 in advance, $15 at the door.
Many food providers at this year's event
Here are some of the establishments that will be showcasing their wares at this year's event:
Copyright ©2015 02038.com