The number of single family homes sold in Massachusetts in 2015 soared to record highs, according to data provided by MLSPIN. Home sales volume across MA rose a strong 9.3% over 2014's total.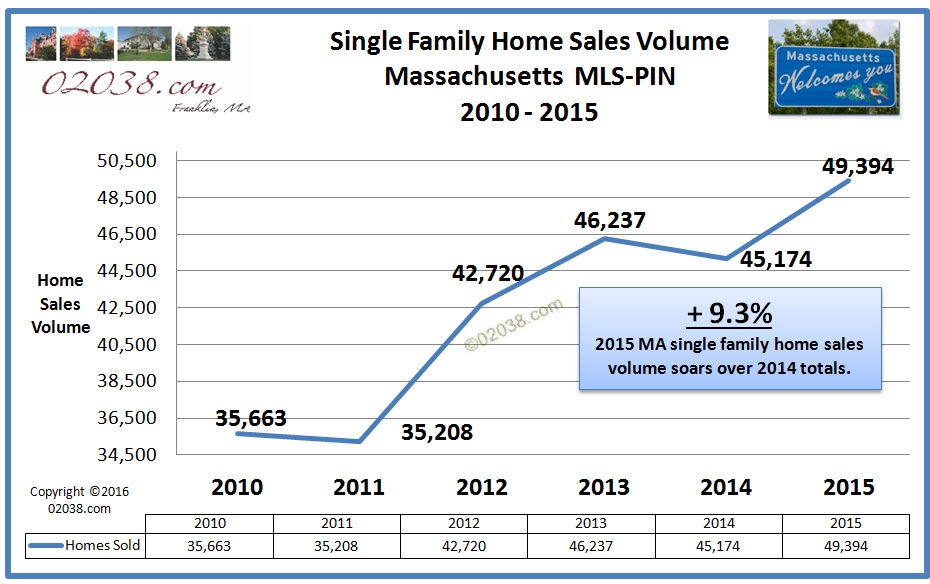 Record home sales volume
More single family homes sold in Massachusetts in 2015 than during any previous year for which MLS-PIN has data!

2015's sales total exceeded the previous high set back in 2004 during the real estate boom of the early 2000s.  (MLS-PIN is the dominate multiple listing service in the Bay State.  It covers all of Massachusetts except Cape Cod; its records go back to 1996.)
Steady home price appreciation
With home sales volume at all time highs, you'd think home prices recorded on MLS-PIN would also have been jumping in the year just ended. But the median sale price for single family homes in MA rose only modestly (+2.6%) in 2015, according to MLS-PIN.
2015 marked the third year in a row that the median single family home sale price rose in Massachusetts.
Greater Boston home prices at record highs
2015 saw home prices in the Greater Boston area finally recover all the ground lost during the Great Recession.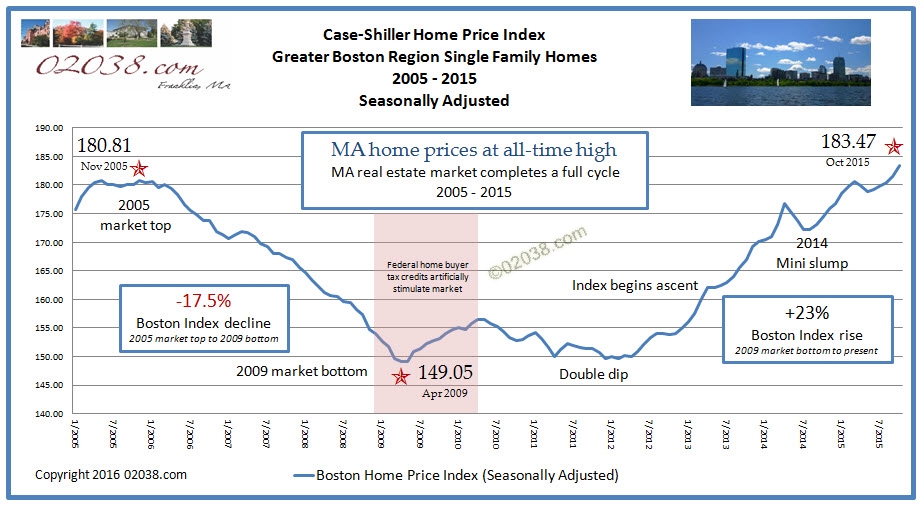 The seasonally adjusted Case-Shiller Home Price Index for Boston is up 23% from its 2009 low.  It now stands (as of October 2015) above its prior all-time high set during the 2005 market peak.  (The Index is published with a two month lag, so as of this post, October is the most recent month reported on by the Boston Index.)
Home sales in Franklin, MA
In the Town of Franklin, Massachusetts, single family home sale volume recovered from a sales slow down in 2014, but failed to exceed 2013's sales total.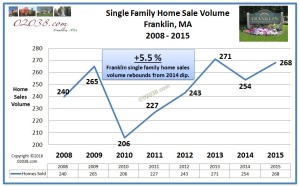 A persistent lack of supply of homes for sale in town throughout the year contributed to the modest 5.5% rebound in Franklin home sales volume reported by MLS-PIN.
Franklin home prices edge upwards
The median sale price of Franklin single family homes  sold on MLS-PIN during 2015 rose slightly compared to the previous year.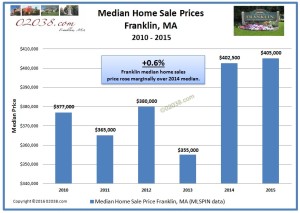 The 0.6% rise for 2015 comes on the heels on a steep increase in Franklin's median home sale price during 2014, so perhaps prices needed to take a breather in the year just ended.
What's the value of your Franklin home?
With GE moving its world headquarters to Boston, 2016 looks to be another good year for real estate in Massachusetts!  If there's a move in your future, contact Warren for a free, no obligation Home Value Report.  You'll see exactly how your home fits in today's market and learn how to maximize your property's resale value.  Contact Warren today!
Copyright ©2016 02038.com