There's no way around it: 2015's sales statistics for Spruce Pond Village in Franklin, MA are downright anemic. Not only did the average sale price fall nearly 5% . . .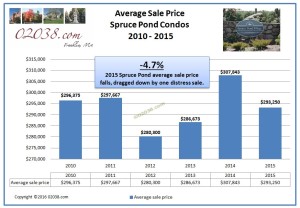 . . . unit sales volume was way off; only four townhomes sold at Spruce Pond for all of 2015!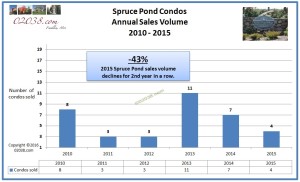 Scant sales the key to 2015's poor price stats
The dearth of sales at Spruce Pond during 2015 actually holds the key to understanding the association's poor average price performance for the year and also seeing that the down stat is not cause for alarm.
Of the four sales during 2015, one was a distress sale that sold for a very low price. With only four sales from which to derive the annual average sale price stat for the year, the one very low distress sale pulled the association's overall average selling price for 2015 way down.
Take the distress sale out of the mix, and the average sale price shoots up: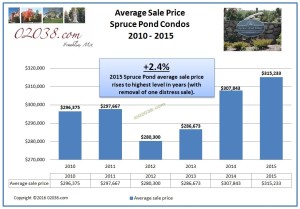 Without that one distress sale, in 2015 Spruce Pond Village enjoyed its highest average sale price in years!  So there is hidden strength lurking behind the weak, misleading price stat at Spruce Pond for 2015.
Distress sale at Spruce Pond misleading
27 Spruce Pond Road was the low sale at the association that depressed the average sale price stat.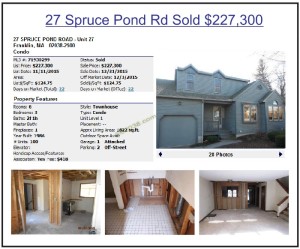 The unit was a foreclosure property that had been held vacant by the lender in a sort of bank-owned limbo for years. The unit had suffered extensive water damage. There was no kitchen left, the bathrooms were mostly missing and other living areas lacked full ceilings, walls, and floor covering. That's why the selling price ($227,300) was so low! 
Highest Spruce Pond sale for 2015
69 Highbank Road was the highest priced  sale at Spruce Pond Village in 2015.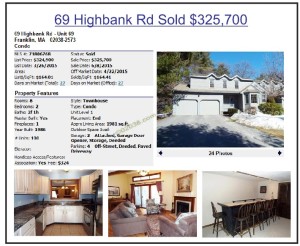 The townhouse enjoys great privacy at the north end of Highbank Road; there are no condos to far side of this home or across the street.  The kitchen was renovated and the basement was finished.
See all 2015 townhouse sales at Spruce Pond Village
Follow the hotlink or tap the image below to download a market report on all townhome sales at Spruce Pond Village in Franklin, MA in 2015: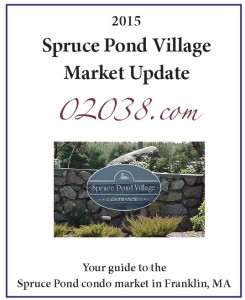 Get acquainted with the townhome condos at Spruce Pond Village
The videos below give you a good introduction to Spruce Pond Village in Franklin, MA:
Introduction to Spruce Pond
Gives an introductory overview of the condo community.
Water Views
Many townhomes at Spruce Pond Village enjoy pretty water views.
Easy access to I-495
Exit 16 on I-495 is just seconds away from Spruce Pond Village.
1 and 2 car garages
Spruce Pond townhomes offer 1 or 2 car garages.
Close to shopping, eateries
Spruce Pond Village enjoys ready access to shopping and restaurants.
If you'd like to tour any homes for sale at Spruce Pond or just have questions about this prime condo association in Franklin, Massachusetts, contact Warren Reynolds!
Copyright ©2016 02038.com