The Massachusetts real estate market is posting banner sales results this year. MA single family home sales volume jumped 18.5% in the first half of 2016, compared to the same period the year before.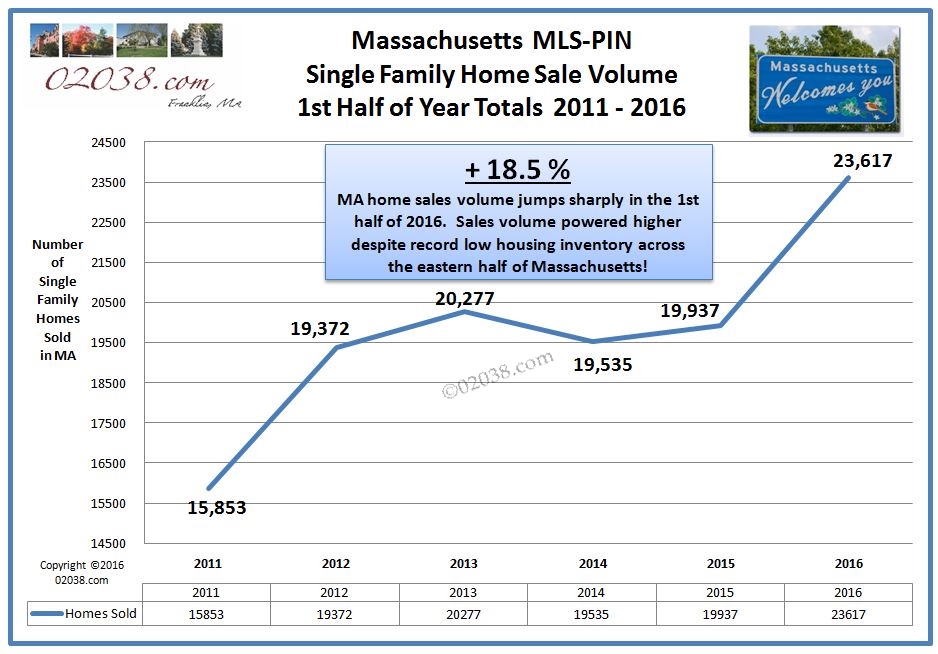 Overwhelming demand for housing in the Bay State powered home sales volume higher, despite a very low supply of properties for sale.
Highest first half sales totals since 2000
2016's first half home sales volume was so high that it actually exceeded first half sales figures for every year going back to 2000.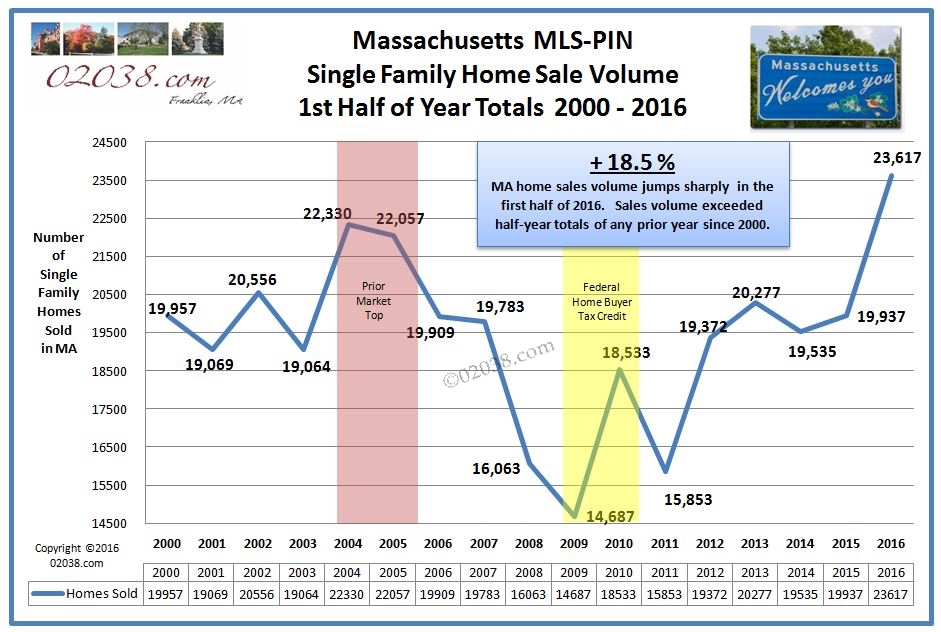 2016's first half sales volume easily exceeded the sales pace set at the height of the real estate boom back in 2004 – 2005.
Massachusetts home prices at all time highs
The robust nature of home sales so far in 2016 certainly is showing up as higher home prices in the Case-Shiller Boston Home Price Index.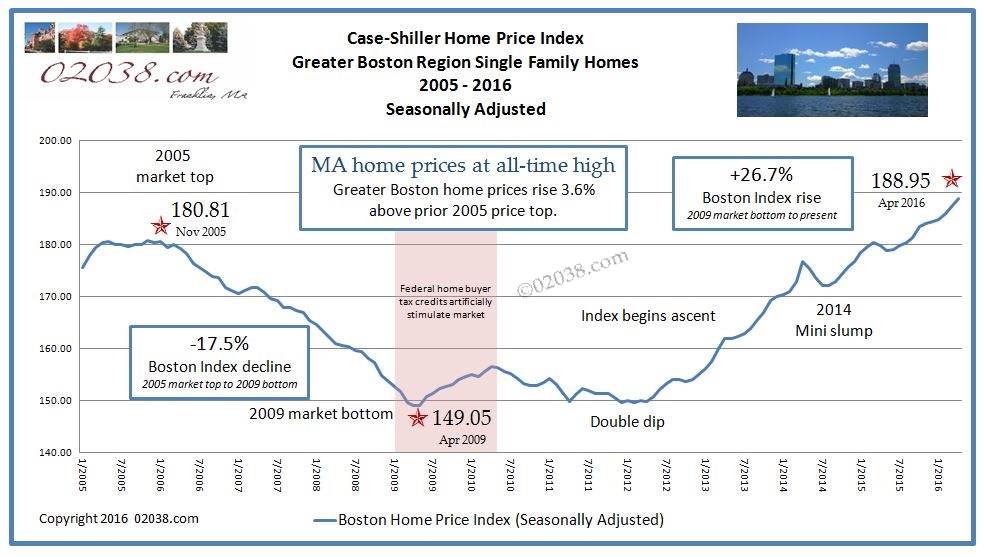 Home prices in Greater Boston have been on a tear in 2016. In the month most recently reported on by Case-Shiller, Boston home prices are 4.5% higher than they were at the last market peak in 2005 and now stand an impressive 26.7% above their 2009 market crash low.
Home sales in Franklin, MA also way up
The Town of Franklin, MA also saw a home sales surge during the first half of the year.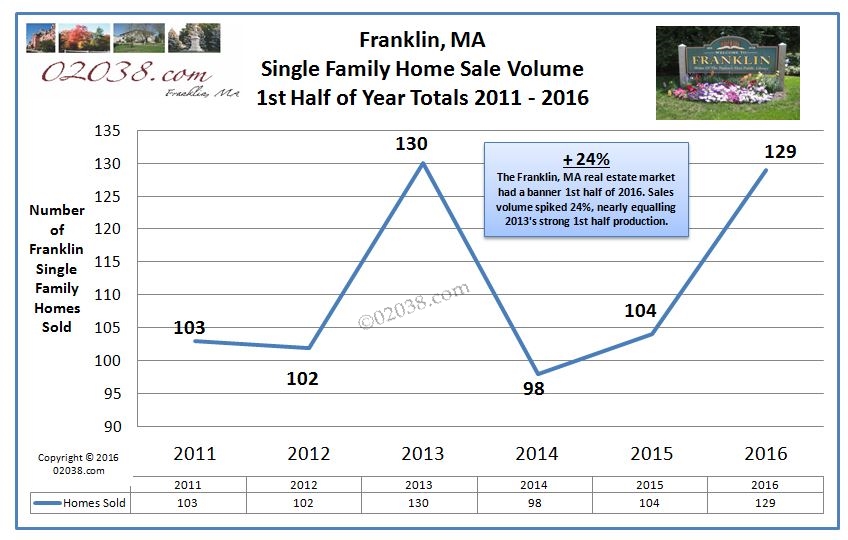 Franklin's single family home sales volume rose a sizable 24% over the first half of 2015, almost equaling 2013's brisk sales.
Home prices rise in Franklin, Massachusetts
Franklin's median single family home sale price was also up for the first half of 2016.
The median single family home sale price in Franklin rose 5.3%, hitting $410,000. (The up and down fluctuation in Franklin's first half median sale price figures seen over the last few years is due more to the relatively small sample of sales during the first half of each year rather than to any true gyrations in local home prices.)
Exceedingly low inventory of homes for sale in Massachusetts
The supply of homes for sale in the Bay State continues to dwindle.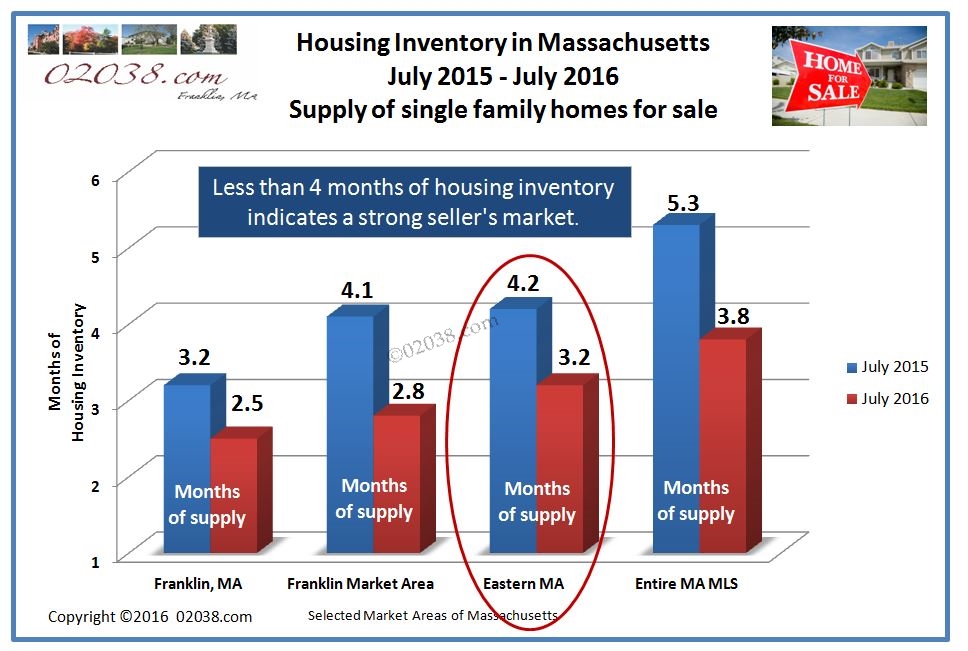 Anything less than a four months supply of inventory indicates a strong seller's market. Housing inventory both in the overall Massachusetts market and in the eastern half of the Commonwealth now stands below the 4 month threshold. The supply of homes is even tighter in the Town of Franklin and surrounding communities.
The severe inadequacy of housing supply in the Bay State is distorting the Massachusetts housing market. Low inventory is making the lives of prospective home buyers miserable because the competition is fierce for what homes there are for sale . And perversely, the lack of supply is leading many would be home sellers who want to stay in state to decide to keep their current homes off the market, because it is so hard to find a replacement home – quite a vicious cycle!
Copyright ©2016 02038.com