Paving project at Stone Ridge Condos a success
The long awaited repaving project at the Stone Ridge Condominiums in Franklin, MA finally got under way this summer and is now nearing a successful completion. The work meant challenges and inconveniences for residents, but the benefits are now obvious: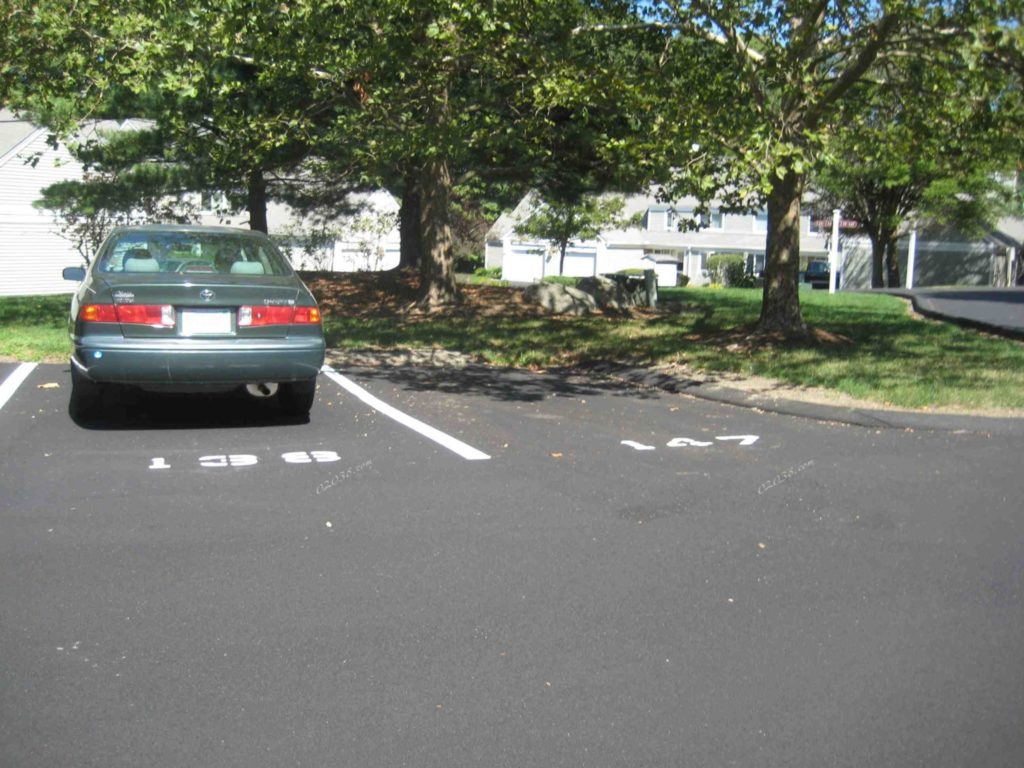 There now is a beautiful new asphalt surface on the roadways and parking areas – and the parking lanes are clearly marked!
Old road surface unsightly and failing
Talk about a bumpy road!  The old street surface at Stone Ridge had reached the end of its useful life.  It suffered from widespread frost heaves, innumerable cracks and general deterioration.
Traveling through Stone Ridge at times felt like you were driving your car across an alligator's back. The parking lane striping had mostly disappeared, leaving visitors to simply guess at where they could legally park.
Association replaces the failed surface
The remedy was to completely replace the road surface. The work has being undertaken in a series of phases over a period of about two to three months.
The first step of the replacement process was grinding the old surface down to create a suitable base for application of the new asphalt. After that, two applications of asphalt were made.  First came an initial binder coat, then a final top coat. Berms were also installed.
Impact of road work on Stone Ridge residents and guests
The replacement process severely disrupted residents' ability to drive in and out of the community and park their vehicles overnight.  Mail and package deliveries were also impacted.
Residents in each work phase had remove their vehicles from their assigned parking spaces and also from their garages.  All these vehicles had to be parked in temporary overnight parking areas.  Stone Ridge Road (the main access road in the condo community), the rotary, the clubhouse parking lot and a special area to the side of the former tennis courts were used for this interim parking. Along the main access road and rotary, cars had to be parked on the grass, completely off the roadbed.
Stone Ridge has a lot to offer

Now that the road surface at Stone Ridge is new and there is additional parking where the tennis courts used to be, there are extra reasons for buyers give serious consideration to this attractive condo community in Franklin, MA.  Stone Ridge offers a great location for commuters, close to I-495 and commuter rail service to Boston.  There are plentiful shopping and services near by as well as superb recreational resources, including a large YMCA and miles of walking trails in the Franklin State Forest.  Contact Warren Reynolds to learn more about the many benefits of living at Stone Ridge in Franklin, Massachusetts!
Copyright ©2016 02038.com