Here's good news for everyone in and around Franklin, MA who is weary of winter: the spring 2019 schedule of fun classes and activities has been announced by Franklin's Lifelong Learning Institute!

Registration for the the Institute's Lifelong Community Learning classes is open to residents of Franklin, MA and non-residents alike – all are welcome. It's a great way to get involved, meet new people and have fun! Follow the hotlink for online registration or you can register by phone at (508) 613-1480 from 1 PM to 7 PM Mondays through Thursdays.
Offerings for a broad range of interests and ages
The Institute's Lifelong Community Learning program features many fun educational and fitness classes for both children and adults.
There are especially robust offerings for children this spring; twenty classes are on tap!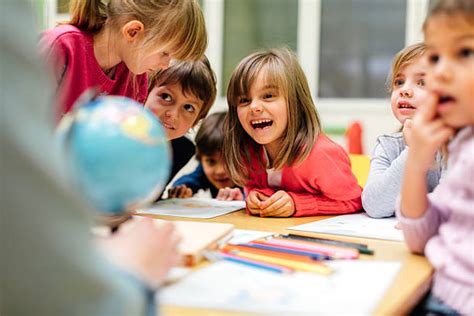 The spring program for kids include courses on babysitting and lifeguard certification, foreign languages, cooking, engineering/STEM, art and fitness/yoga.
Adult offerings this spring feature a slew of classes in quite a number of topics.
You'll find classes in the following categories: Art and Leisure, Business and Professional Development, Child Care and Parenting, Dance, Exercise and Wellness, Food and Wine, Language, Photography and Social Media, and Sports.
Entire spring 2019 program
Download the full Lifelong Community Learning spring 2019 program here or by following the hotlink in the image below: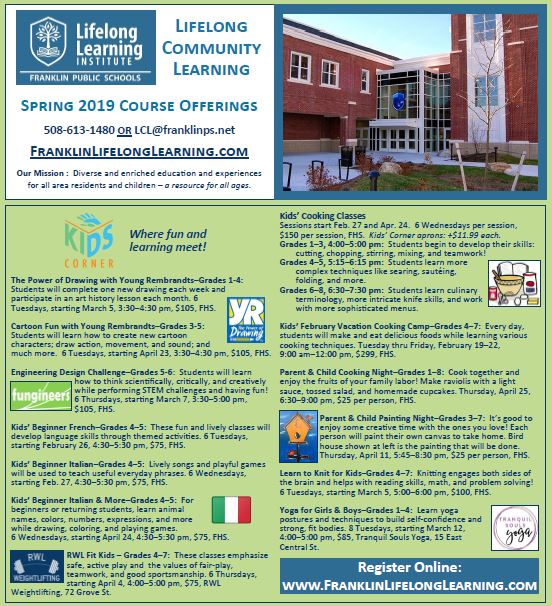 Lifelong Learning Institute an asset to Franklin, Massachusetts

On its website, the Lifelong Learning Institute explains that its mission is to offer all area residents the benefits of the educational and social enrichment resources available from the Franklin Public School system:
"The Lifelong Learning Institute is the community education branch of the Franklin Public Schools in Franklin, MA. Lifelong Learning provides educational experiences for Franklin residents (and those from surrounding towns) from pre-school through retirement and beyond. This all-encompassing mission is accomplished through the efforts of dedicated employees of the Franklin Public Schools, and is supplemented with the talents of a number of our "friends in education" who partner and collaborate with us. The Lifelong Learning Institute is a fully functioning part of the Franklin Public Schools and has been in existence since the fall of 1998."
The Institute maintains a total of six categories of programs for the public. In addition to the classes and activities sponsored by the Institute's Lifelong Community Learning program described in this post, the Institute also provides a vital service in its Solutions Extended Day program. The Solutions program gives parents and guardians of young children safe and affordable before-school and after-school childcare services – a godsend for busy working families.
Other programs under the Institute's aegis are its Music Academy, Summer Program, Online Learning, and High School Experience.
So please consider taking advantage of one of the classes offered by the Institute's Lifelong Community Learning program and check what else the Lifelong Learning Institute can do for you!
Copyright ©2019 02038.com