The first six months of 2019 saw the average price paid for townhouses at the Stone Ridge Condominiums in Franklin, MA jump six percent over the prior year's first half average price figure.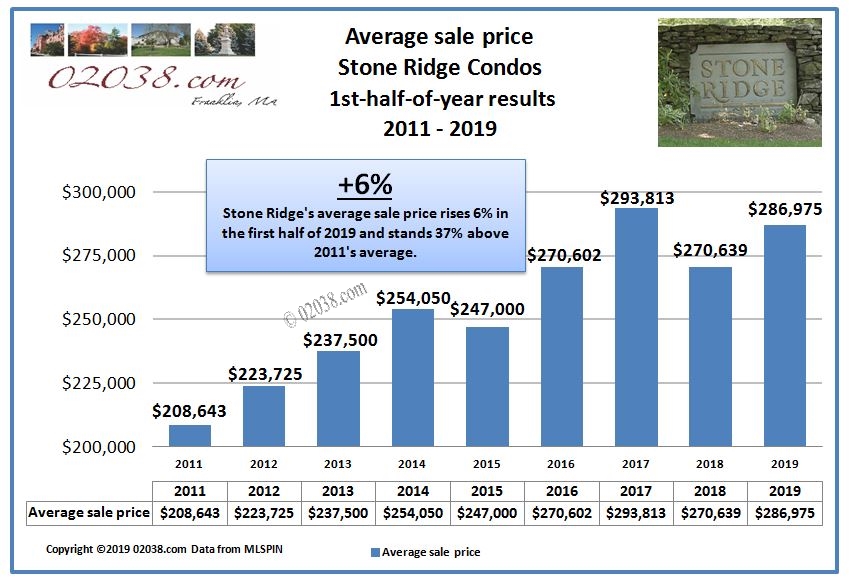 The average sale price at Stone Ridge now stands thirty-seven percent higher than it was back in 2011.
2019's rebound was from an uncharacteristically weak showing during the first half of 2018. The average price for the first six months of 2018 had been artificially depressed by the mix of units that sold: of the six units that changed hands during the first half of 2018, three sold at low prices that brought the six-month average sale price down. (One was a distress sale and the other two were small units with detached garages.) As 2018 progressed and with more unit sales in the overall mix, the average sale price at Stone Ridge rebounded nicely by the end of 2018. Indeed, at year's end, the average sale price at Stone Ridge stood at a thirteen year high.
Sales at Stone Ridge during the first half of 2019
Below are all the Stone Ridge townhomes that sold during the first six months of the year:
Top sale of the year to date
At $330,000, 118 Stone Ridge Rd is the highest-priced Stone Ridge condo to sell during first half of 2019.
This unit offered 1,484 sq ft on the two main living levels plus an additional 407 sf in the spacious third floor loft. The basement was unfinished. The condo showed well and offered many updates and an attached garage. A winner!
Lowest-priced sale during the first half of 2019
65 Stone Ridge Rd presents something of an enigma: asking $280,000, it had an updated interior yet it sold for a discounted price of $261,000.
Unit 65 offered 1,240 sq ft on two living levels. The basement was unfinished and the garage was detached with no direct entry. But the kitchen was updated and there was extensive bamboo flooring. However, access for showings was limited, and the photography used in marketing was at times disadvantaged.
Buying or selling at Stone Ridge
If you're thinking of selling your unit at Stone Ridge, Contact Warren Reynolds for expert help with pricing and preparing your condo for market. Having listed and sold units at Stone Ridge for over twenty years, Warren really knows this popular condo community!
For those interested in living or investing in Stone Ridge, you can learn more about the Stone Ridge Condominiums here. If you have any questions about the two Stone Ridge associations or would like to see condos for sale there, Warren's here to help!
Copyright ©2019 02038.com