The median sale price of single-family homes sold in Massachusetts hit a new record high in 2019, according to data maintained by MLS-PIN. The largest Multiple Listing Service in New England, MLS-PIN reports that the statewide median sale price hit $415,000 for the year just ended, a 3.8% gain over 2018's median. This makes 2019 the third straight year of record-setting median sale prices for the Massachusetts housing market.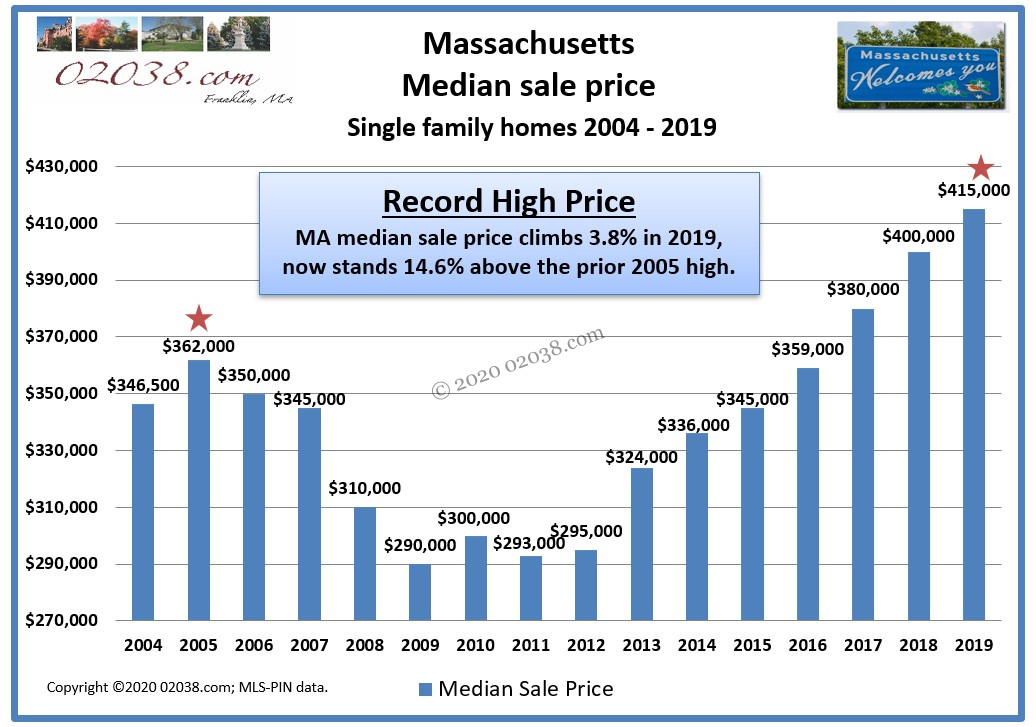 The median sale price of single family homes in Massachusetts sold on MLS-PIN now stands 14.6% above its prior market-cycle-high set back in 2005 and a sizable 43% higher than its 2009 Great Recession low.
Mortgage rates moving the housing market
The Fed's dramatic easing of monetary policy at the end of 2018/start of 2019 immensely helped the housing market as 2019 unfolded.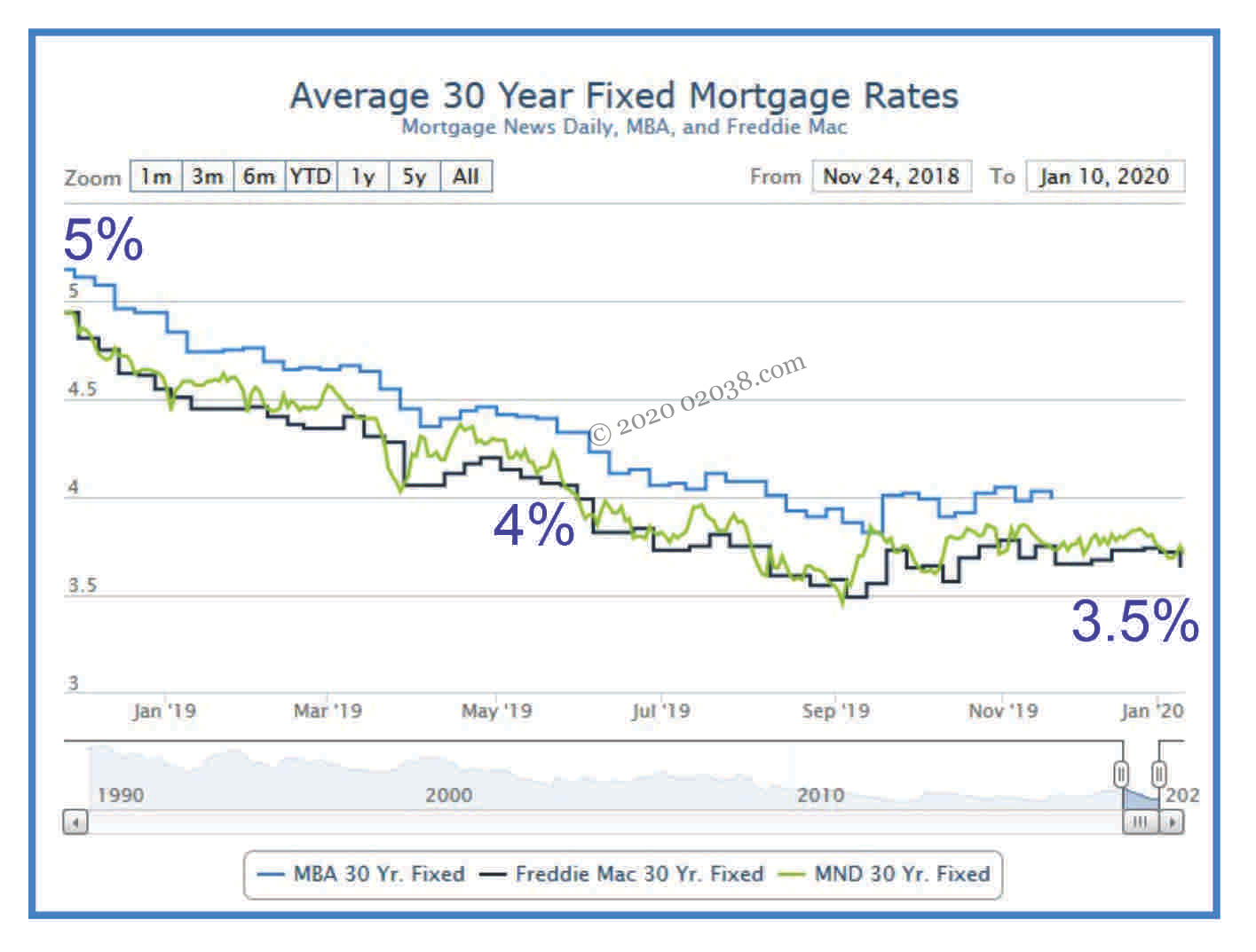 As detailed by Mortgage Daily News, average 30-year-fixed mortgage rates fell sharply from the end of 2018 into 2019. From a high of about 5% in December 2018, the average 30-year mortgage rate had fallen as low as 3.5% by last fall. The decline boosted home buyers' purchasing power significantly and powered gains in home prices throughout 2019.
Strong sales performance
The number of Massachusetts single family homes that sold on MLS-PIN in 2019 rose marginally over 2018's total.
As detailed below, 2019's sales volume gain came during a year of relentlessly low housing inventory. So the fact that there was any rise at all in the number of homes sold in 2019, even a minimal increase, actually is a very bullish indicator.
Crushingly low supply of homes for sale
2019 showed no mercy to Bay State home buyers in terms of housing choice: it was yet another year of low housing inventory.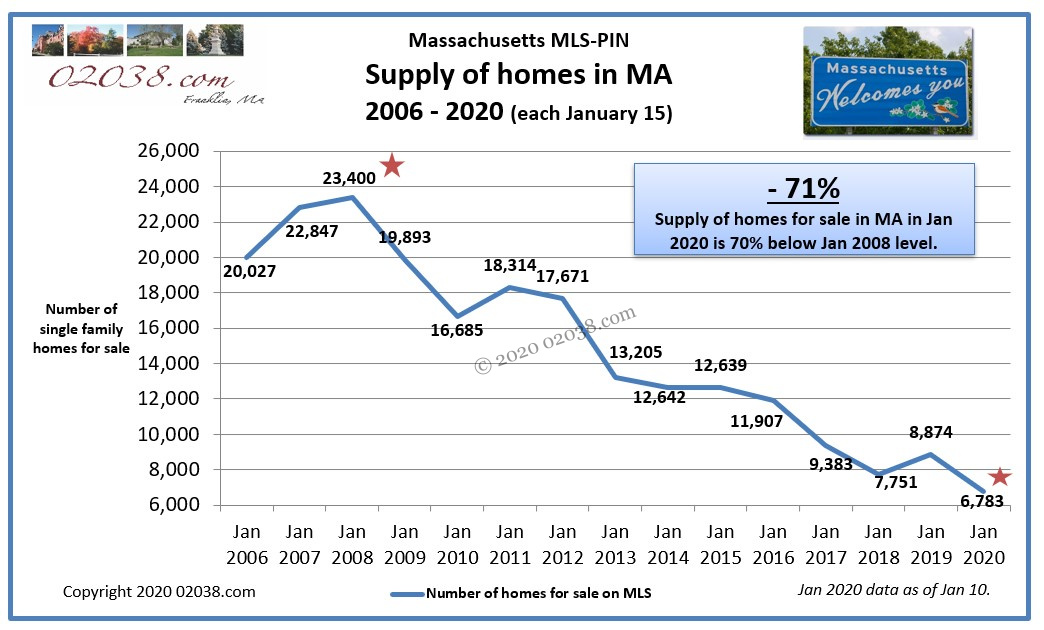 The chart above shows the number of single family homes for sale on MLS-PIN each January 15 for the last fifteen years; it paints a very clear picture of the extremely low numbers of homes for sale in Massachusetts throughout 2019.
The chart below demonstrates the scant supply of homes for sale in another way: it shows how many months of housing supply there are in Massachusetts.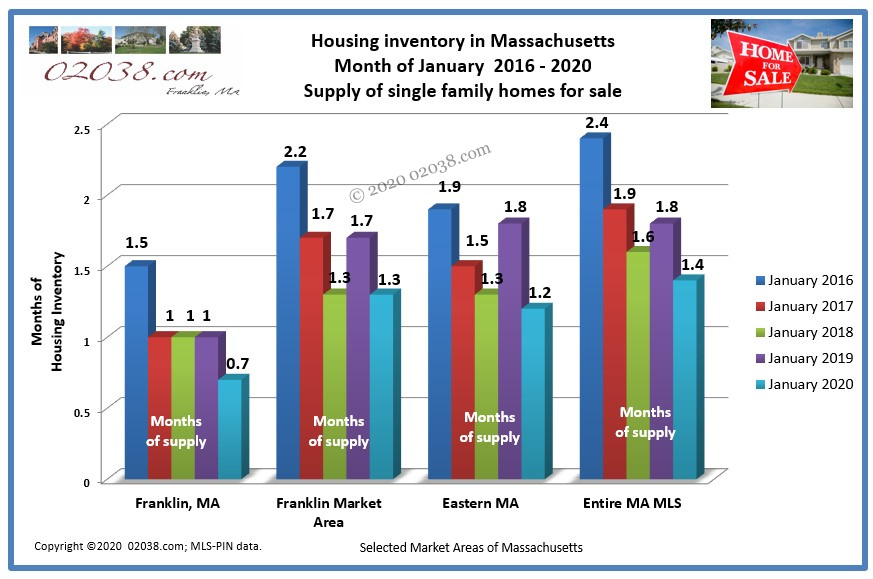 It's very telling that a two-month supply of available homes, last seen in 2016, looks downright ample compared to how low supplies are at the start of 2020.
Conventionally, a six-month supply of homes is deemed a housing market in equilibrium. A four-month supply typically denotes a market favoring home sellers. It's shocking that, in the first month of 2020, we are faced with less than a one-and-one-half-month of supply of homes for sale across Massachusetts and in all the sub-markets represented in the above chart. Today's abysmally low inventories of homes for sale should serve as warning to all prospective buyers about the upcoming spring home buying season: if you find a home for sale that works for you, buy it immediately!
Franklin, MA housing in 2019
To get a sense of how the housing market fared in Franklin, MA during 2019, start by taking another look at the chart above showing the months of supply of homes: there currently is in Franklin, MA LESS than a one-month supply of single family homes – that's dire!
Here's how the current supply of homes for sale in Franklin breaks down by price bracket: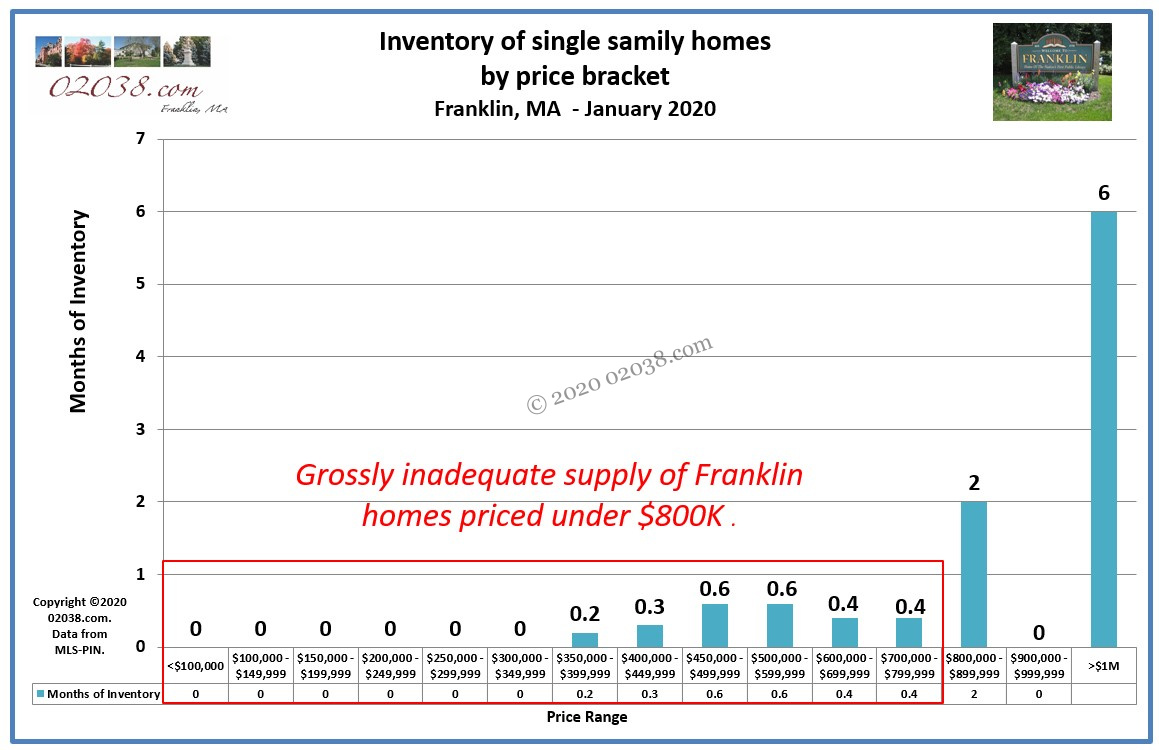 There's very little supply in every price bracket below $800,000. And it was pretty much like that throughout all of 2019!
Franklin median price at record high
Given how depressed the supply of homes has been in Franklin in the last few years, the median sale price performance in Franklin for the year was fairly muted.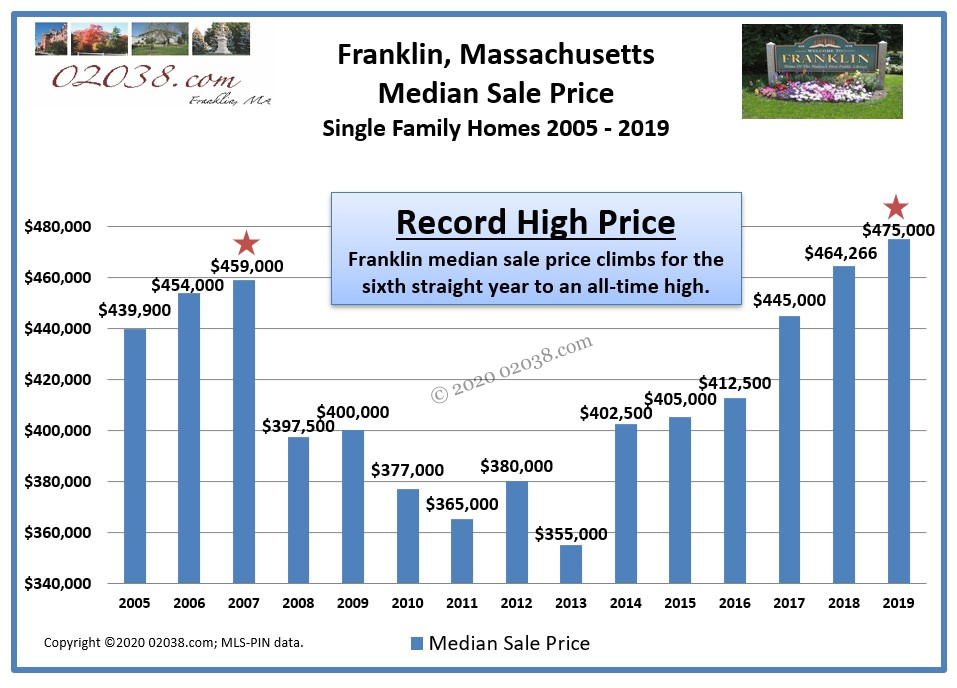 The median sale price of single family homes in Franklin, as reported by MLS-PIN, rose 2.3% in 2019 compared to the median price for 2018. Franklin's median sale price for 2019 is only 3.5% higher than it was at its 2007 prior market-cycle high. Franklin remains a relative bargain in the Greater Boston area!
So while supplies are tight and home prices certainly are at all-time highs in Franklin, MA, prospective home sellers in town should resist the temptation to push the asking price envelope in 2020. Even in the current pro-seller market, significantly over-priced homes will face resistance from the home-buying public.
Home sales volume in Franklin slips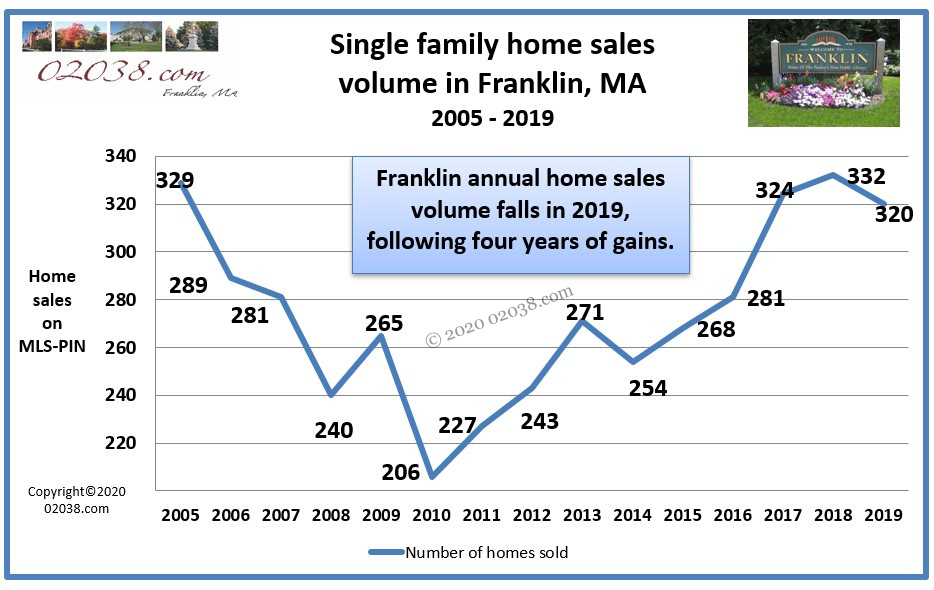 For the first time in the last five years, the number of single family homes sold in Franklin on MLS-PIN fell in 2019. The decline was a slight 3.6%. More housing inventory in 2020 should be the cure for any sags in home sales volume in Franklin this year.
©2020 02038.com