2019 saw the average sale price at the Highwood Condominiums in Franklin, MA rise 3.2% to hit a fourteen year high.
2019 was the seventh of the last eight years in which condo values rose at Highwood. At $230,466, Highwood's average sale price now is just 2.3% shy of its 2005 all-time high. You can learn about each of the three associations that comprise the Highwood Condominiums in Franklin, Massachusetts here.
2019 sales report
You can download the complete 2019 sales report for the Highwood Condominiums by following the hotlink at left or in the image below.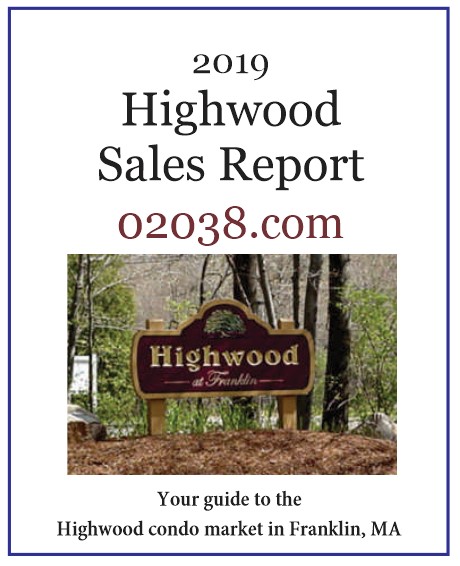 Looking the the Highwood condo units that sold in 2019, one trend is clear: buyers paid premiums for units that either offered extensive updating or which featured hard-to-find floor plans.
Of the five Highwood units that sold over asking price in 2019, three enjoyed a high degree of updating. The other two were not as improved, but offered buyers floor plans that greatly enhanced the desirability of those units. One was a ranch-style unit with one-level living. The other had three bedrooms, a relatively rare find at Highwood.
Good pace of sales at Highwood in 2019
Sixteen units sold at Highwood in 2019.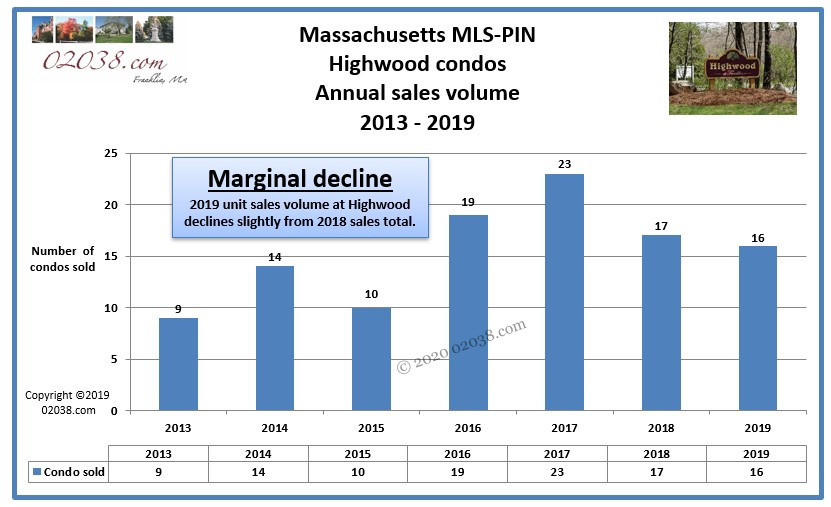 2019 was the second year of declining sales volume at Highwood. However, 2019's sales total did nearly equal the total sales figure of the immediately prior year and exceeded the annual sales of three of the last seven years. So Highwood's sales volume for 2019 seems indicative of continued healthy demand for units in this prime condo community in Franklin, MA.
Have questions about condos at Highwood?
Use the hotlink at right to learn more about the Highwood condo community in Franklin, Massachusetts. You'll access exclusive content on life at Highwood, including informative videos of the community location and grounds. If you have any questions about buying or selling at the Highwood Condominiums, contact Warren Reynolds! He is a great resource for Highwood and has helped both buyers and sellers at Highwood for many years.
©2020 02038.com