Back in March 2020, as the COVID Shutdown was imposed, no one could have imagined how strong the Massachusetts real estate market would become by the end of the summer. At the start of September, the median single-family home sale price in Massachusetts is at an all-time high and pending home sales across the Bay State have set records for each of the last three months!
Video on the summer market
The video below gives a good review of the summer 2020 real estate market in Massachusetts:
Median sale price up 7.2%
The year-to-date price stats as of August 31 tell the all-time-high story.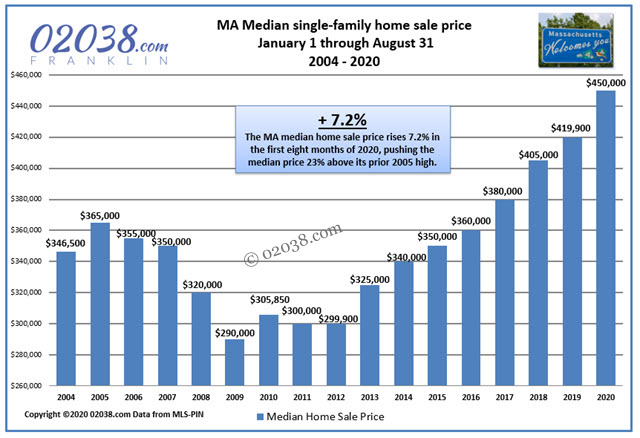 For January thought August of 2020, the median sale price of single-family homes in Massachusetts is up 7.2% compared to the same eight month period last year. That puts the median sale price up 25% since 2016 and 23% above its prior market-cycle high set back in 2005.
Pending home sales sizzle
It seems the 2020 prime spring home selling season was delayed by the shutdown and instead took place this summer. Pending home sales tanked during the shutdown last spring. But pendings now have hit records each of the last three months.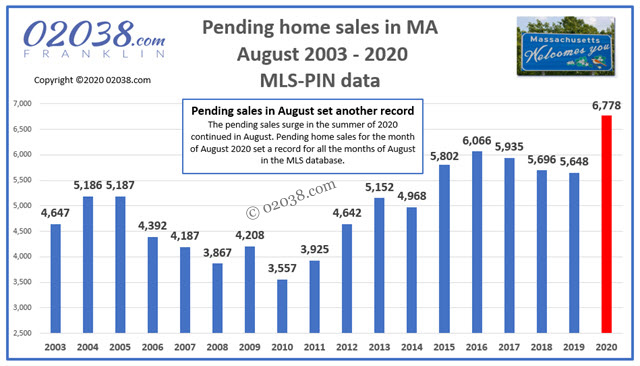 In August, pendings were 20% above 2019's August pending total. Pendings sales this August were well above the pending sales totals for any August of record in the data maintained by MLS-PIN!
It was the same story for both June and July of this year.
Home sales volume still shows effect of shutdown
The only negative in the year-to-date sales figures for 2020 comes with the number of single-family homes sold.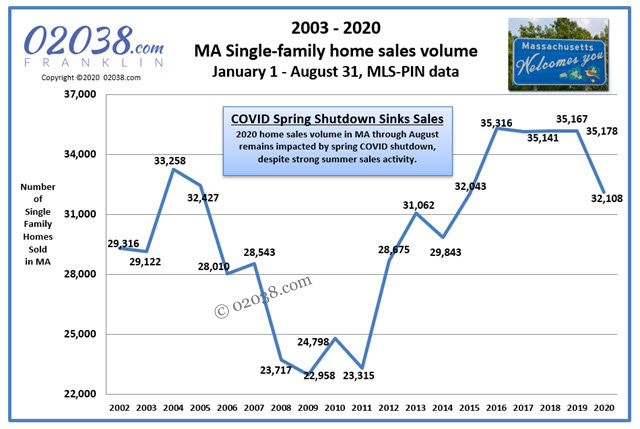 The January through August sales total for single-family homes in 2020 is down. This follows a collapse of pending home sales last April at the height of the shutdown.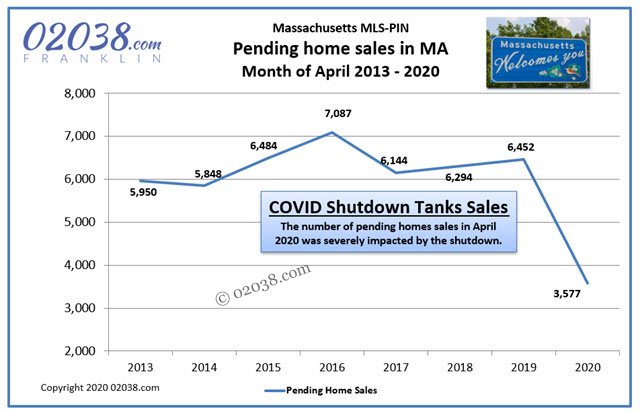 Housing inventory low
Of all the many serious challenges facing the economy and society this fall in light of COVID-19, the problem bedeviling Massachusetts real estate is a lack of homes to buy.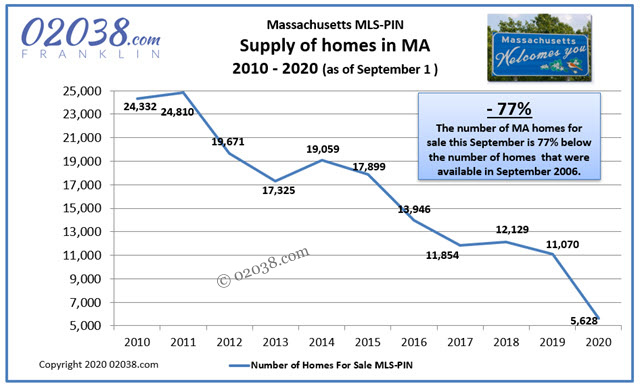 It is simply appalling how little housing inventory there is on the market. It makes buyers' lives miserable and keeps homeowners from listing their homes. Agents hear all the time from prospective home sellers: "I'm not listing my home now because there's nothing I want to buy." Talk about a vicious cycle!
If you own a home and want to move, but feel stymied by the lack of available homes you could see yourself buying, please contact me:
There are strategies home sellers can employ that will increase their opportunities to move in this perniciously low-inventory real estate market!
Copyright ©02038.com